Ferguson Unrest Calls Attention To The State of Police Technology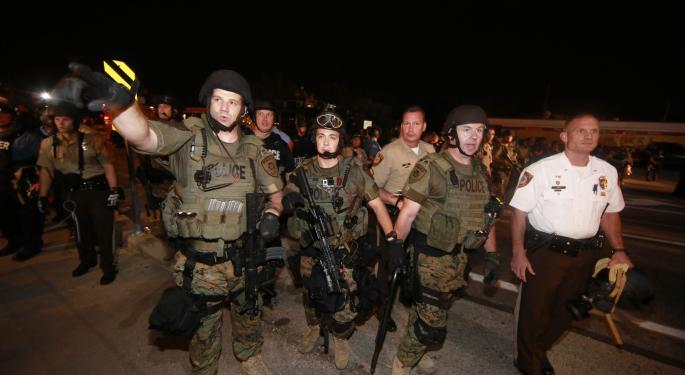 There has been a dramatic increase in inquiries about officer-worn camera systems and other types of police technology. This comes as a result of the national media coverage following the killing of teenager Michael Brown by police officer Darren Wilson in Ferguson, Missouri.
Digital Ally (NASDAQ: DGLY) CEO, Stanton E. Ross said Wednesday, "The civil unrest that has resulted in riots and looting of local businesses in Ferguson, Missouri during the past week has drawn national attention to the critical importance of audio and video documentation of evidence collection involving law enforcement officers."
Related Link: Are You Ready For Cops With Wearable Cameras?
Digital Ally FirstVU HD Officer-Worn Video System
Digital Ally's system and others like it are unique because they accommodate the need of police officers exiting their vehicles. Such action often leaves dash-mounted cameras unable to record activity beside or behind the patrol car.
"Since its market launch, the efficacy of the FirstVU HD has been complemented and expanded by 'live streaming' capabilities, cloud-based storage and access, and the recent introduction of our patented VuLink connectivity system, which allows body cameras and multiple in-car video systems to be automatically or manually activated simultaneously," Ross said.
TASER Axon Flex
Another leading maker of wearable video cameras is TASER (NASDAQ: TASR). Called the Axon Flex, the $600 camera lets officers mount the tiny camera on their eyewear, ball cap, helmet, epaulette, body or even on the dash of their cruiser.
A collaboration between TASER and Samsung (OTC: SSNLF) allows the video and audio feed from the camera to be sent to a Samsung media device with a four-inch screen called the Galaxy Player.
Law enforcement agencies have used the Axon Flex-Galaxy Player combination not only for active police work, but also to monitor trainees and help provide better feedback as they develop their policing skills.
GoPro Hero
Previously known as Woodman Labs, GoPro (NASDAQ: GPRO) went public on June 26. The company makes the Hero line of personal HD cameras, frequently used in extreme sports.
Although the GoPro Hero is sold to and used by law enforcement, it is larger than some of its competitors and considered bulky by some.
What some consider a disadvantage, however, could also be an advantage. A chest-mounted GoPro Hero is obvious to anyone a police officer encounters.
Rialto, California Police Chief William Farrar told The New York Times, "When you put a camera on a police officer, they tend to behave a little better, follow the rules a little better. And if a citizen knows the officer is wearing a camera, chances are the citizen will behave a little better."
Related Link: Google Glass Rapidly Gaining Traction With Physicians
Google Glass
Google (NASDAQ: GOOG) Glass, many would argue, is a perfect fit for police use. It sees what the officer sees, is small and lightweight, unobtrusive and offers many other benefits including the ability to communicate with various police agencies.
Law enforcement personnel in Dubai, New York, Byron, Georgia and Rialto have made use of Google Glass. Because the device has the potential to be used with a variety of apps that could, for example, scan license plates, many in law enforcement see Glass as one of most attractive options yet.
At the time of this writing, Jim Probasco had no position in any mentioned securities.
View Comments and Join the Discussion!
Posted-In: digital ally Ferguson Glass GoogleTopics Top Stories Tech General Best of Benzinga