Benzinga's M&A Chatter for Tuesday August 19, 2014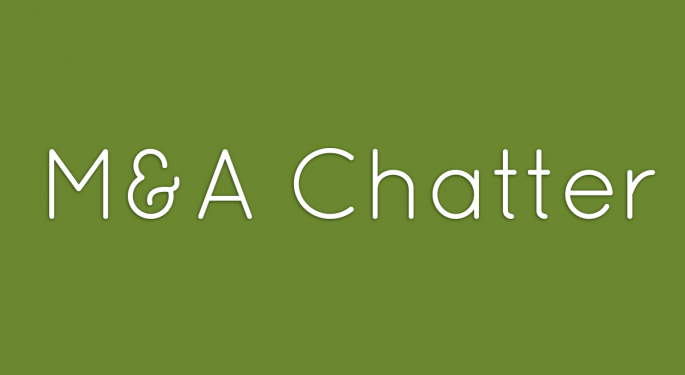 The following are the M&A deals, rumors and chatter circulating on Wall Street for Tuesday August 19, 2014:
GigOptix Proposes to Acquire GSI Technology for $6.50/Share in Cash, Stock Deal
The Offer:
GigOptix (NYSE MKT: GIG) announced Tuesday that it is proposing to acquire all of the outstanding shares of GSI Technology (NASDAQ: GSIT) for $6.50 per share, consisting of $2.00 per share in cash, plus GigOptix common stock worth $1.33 based upon the volume-weighted average price of GigOptix's common stock for the three trading days ending one day prior to the closing of the combination and a special dividend of $3.17 per share in cash payable by GSI Technology.
GSI Technology acknowledged the unsolicited, non-binding and conditional proposal from GigOptix, and said its Board of Directors will promptly and carefully review and consider the proposal, respond to it and advise its stockholders of the Board's response.
GSI Technology closed at $5.41 Tuesday, a gain of 9.55%. GigOptix shares rose $0.01, to close at $1.34.
Allergan Could Acquire Salix for as Much as $190/Share
The Rumor:Shares of Salix Pharmaceuticals (NASDAQ: SLXP) rose sharply Tuesday, on a report from WSJ that Allergan (NYSE: AGN) could acquire the Raleigh, NC drug company for as much as $190 per share or $10 billion, according to sources. The rumored move is being seen as an attempt to make it more difficult for Valeant Pharmaceuticals (NYSE: VRX) to acquire Allergan.
Shares of Jazz Pharmaceuticals rose almost 3% for the day, on reports it too could be a potential takeover target.
Allergan declined comment on the rumor. Salix did not respond to a request for a comment.
Salix Pharmaceuticals closed Tuesday at $160.80, a gain of 15.5%, while Allergan closed at $161.82, a gain of 4%. Shares of Valeant closed at $113.72 a gain of 3.5%.
Report Family Dollar Likely to Reject Dollar General Bid
The Rumor:
CNBC's David Faber reported Tuesday that Family Dollar's (NYSE: FDO) Board of Directors is likely to meet this week to discuss the bid of $78.50 per share in cash from Dollar General (NYSE: DG). According to Faber, Family Dollar's Board is likely to reject the offer.
Dollar Tree (NASDAQ: DLTR) offered $74.50 per share in cash and stock for Family Dollar on July 28.
Family Dollar closed Tuesday at $79.70, loss of $0.11, while Dollar General lost $0.55, closing at $63.59.
Hearing Takeover Chatter in Quantum Fuel Systems
The Rumor:
Shares of Quantum Fuel Systems (NASDAQ: QTWW) spiked higher Tuesday on unconfirmed takeover chatter. Shares hit a high of $5.34.
A spokesperson for Quantum told Benzinga the company was not in sale talks.
Quantum Fuel Systems closed Tuesday at $5.18, a gain of $0.09.
View Comments and Join the Discussion!