5 Improvements Cable Needs To Survive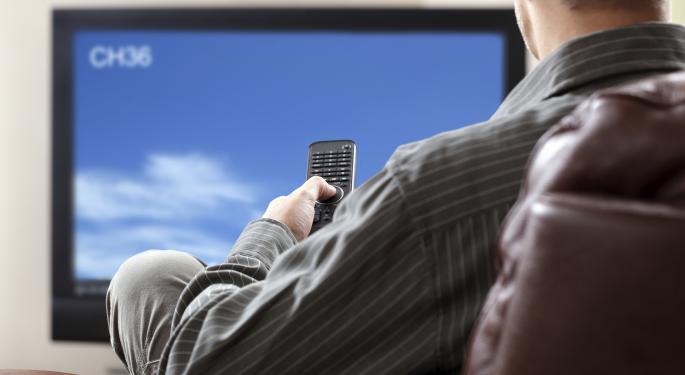 Broadband Internet access is now more popular than cable TV.
"That's been the industry trend," Albert Fried & Company analyst Rich Tullo told Benzinga. "The fact that we're now over half is somewhat important."
This is a sign of the changing times, but is there anything the industry can do to obtain new pay-TV subscribers? Read on to find out.
1. Lower Rates
According to NPD, the average monthly pay-TV bill will reach $123 by 2015 and $200 by 2020. Those fees are astonishingly high, especially when compared to the price of Netflix (NASDAQ: NFLX) ($8.99 per month for HD-quality video and $7.99 for standard definition) and Hulu Plus ($7.99 per month).
Granted, none of the streaming video services offer live sports, live news or coverage of any other live events. They don't offer new episodes of shows from AMC Networks immediately after they are aired. (Netflix users must wait a few months.) Last, they don't provide access to premium channels like Showtime and HBO.
As of this writing, there are still 49.91 million pay-TV subscribers in America versus 49.915 million Internet subscribers. The difference is minimal now, but the gap could widen if pay-TV bills continue to skyrocket. Cable companies might want to re-think their pricing plans before additional subscribers cut the cord.
Related Link: Comcast-Time Warner Merger Should Be 'Dead On Arrival,' Says Former FCC Commissioner
2. Better Customer Service
Consumer Affairs -- a consumer advocacy organization -- has compiled more than 2,200 complaints about Comcast (NASDAQ: CMCSA), more than 800 regarding Time Warner Cable and more than 500 regarding Charter Cable. Cox Cable received more than 200 complaints, while AT&T's U-Verse attracted more than 500 complaints.
In addition to these user-submitted problems, Comcast is known for hiring customer service reps who are overly persistent -- even when subscribers ask to cancel their service.
Lackluster customer service could turn off some consumers and prevent them from subscribing to cable. Worse yet, it might actually inspire some existing subscribers to cancel their service and never return. If pay-TV providers want to change that, they need to change the way they handle customer service.
3. Affordable Ultra HD
Pay-TV services were quick to jump on the HD bandwagon, but Ultra HD is still in its infancy. When it goes mainstream, it is likely to cost more money.
Right now, the average cable company charges $10 per month for every HD set-top box. Cable companies may even be allowed to force consumers to rent one or more of these boxes.
Box rental is part of the reason why cable fees are rising, but it may have a negative impact on subscriber growth. Ultra HD could be an important part of TV viewing, but cable providers shouldn't expect customers to pay more for this option.
Instead, pay-TV companies might want to apply an Apple-style pricing approach. Now that HD cable is old, it could essentially take the place of standard definition. Monthly fees would be lowered in accordance with this transition. Cable companies could still offer SD cable for those who want an even cheaper option. Then the all-new Ultra HD service could sell for as much as HD does today.
Related Link: 6 Companies That Could Acquire AMC Networks
4. Partnerships
Cable companies have teamed up with Netflix to improve the quality of its streaming video service, but they should take things one step further.
For example, Comcast could offer a free 12-month subscription to Hulu Plus (which it partially owns) to new subscribers. Similar deals could be worked out with Netflix and Amazon Prime.
5. Fresh Concepts
How long has it been since cable was referred to as "fresh" or "innovative"?
Netflix and Hulu may have an unfair advantage in this regard. They are, after all, the new kids on the block. Comcast launched its on demand video services long before Netflix started streaming video, but that's old news now.
To obtain and retain new subscribers, cable companies need to offer a unique experience that cannot be acquired through streaming video or over-the-airwaves antennas. It cannot merely be a new channel, another sporting event, or some other feature that has been available for 10-plus years. It needs to be something that will make cord cutters return to cable without hesitation.
Disclosure: At the time of this writing, Louis Bedigian had no position in the equities mentioned in this report.
View Comments and Join the Discussion!
Posted-In: AT&T Charter Cable Comcast Cox CableTopics Top Stories Tech General Best of Benzinga