How U.S. Law Enforcement Snaps Up Military Gear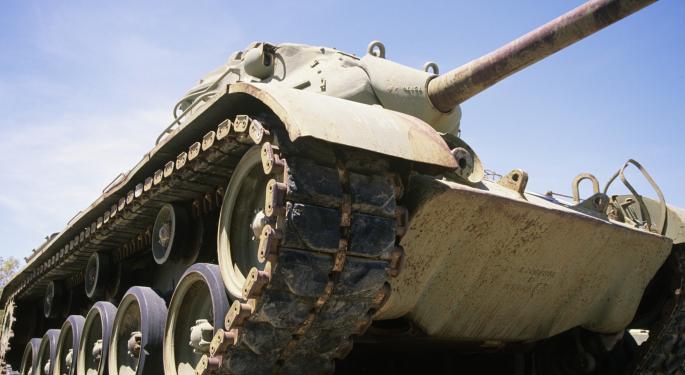 The anger and unrest in Ferguson, Missouri, unleashed by the shooting death of an unarmed African-American teenager by a local police officer, has yet to abate.
That unrest has drawn attention to local law enforcement's acquisition of military hardware, because of what is being seen as a unequal response to the community's anger by law enforcement.
Soon after the shooting, local police deployed wearing military fatigues and bullet-proof vests, and were backed up on the streets of Ferguson by battlefield-ready armored vehicles and marksmen aiming sniper rifles at the crowd.
That response has been heavily criticized by a wide spectrum of groups, and has highlighted what is being called the militarization of local U.S. police forces.
Related Link: 3 Energy Companies Investing In Startups
A Buying Spree And The 1033 Program
According to a 2011 report by the Center For Investigative Reporting, since the 9/11 terror attacks of 2001, thousands of local police departments have "been on a gear-buying spree with the aid of more than $34 billion in federal government grants."
Many state and local law enforcement groups have also benefited from the Department of Defense's 1033 Program, which allows the Pentagon to transfer to state and local law enforcement agencies, without charge, excess U.S. military property: vehicles, aircraft, drones, weapons, computer equipment, night vision goggles and more.
This past April, as part of the 1033 program, officials in Washington City, Iowa, population 7,000, approved the local police chief's request to get a free Mine Resistant Ambush Protected (MRAP) troop transport for his 12-person police force.
"Is it going to be used a lot? No. I don't anticipate that at all," said the police chief in response to a TV reporter's question about the $500,000 vehicle. "But it really only takes once to make it worth its while."
For their part, many law enforcement groups don't see themselves as militarizing but rather as keeping up with current threat levels.
"They point to 1997," notes a 2011 article in The Daily Beast, when "Los Angeles-area bank robbers ... pinned police for hours with assault weapons, the gun-wielding student who perpetrated the Virginia Tech massacre in 2007, and the terrorists who waged a bloody rampage in Mumbai, India, that left 164 people dead and 300 wounded in 2008."
Related Link: 5 Best Auto Deals In August
Who Benefits?
Whether the buildup is justified or not, one group stands to benefit from this trend toward more military gear in the hands of local and state law enforcement: military contractors.
Lockheed Martin (NYSE: LMT), for example, has been marketing some of its new drone technology for both the law enforcement and agricultural sectors.
On the other hand, third quarter report last month Oshkosh (NYSE: OSK), makers of the MRAP and other "specialty trucks," said its defense segment sales were down 46.5 percent because of the lower sales to the U.S. Department of Defense.
Company CEO Charlie Szews also noted that, while the company's defense segment workforce has been reduced, Oshkosh was still "retaining the expertise and skill sets that are essential to support potential new business."
View Comments and Join the Discussion!
Posted-In: 1033 Program Department of Defense Ferguson law enforcement MissouriPolitics Topics General Best of Benzinga