5 Best Auto Deals In August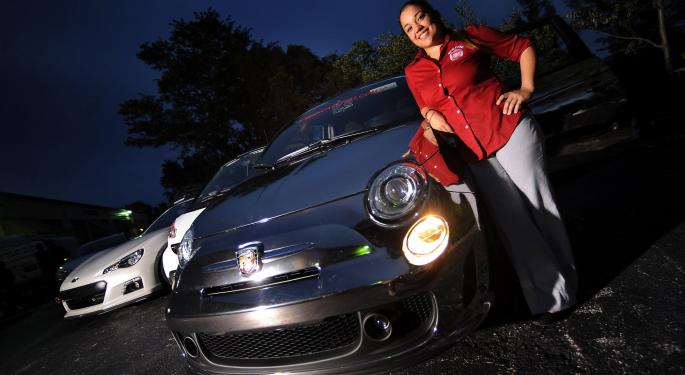 The summer driving season may be winding down, but summer season car sales continue to remain hot, with 2014 projected to remain strong overall.
Kelley Blue Book said that sales for the first half of 2014 reached 8.15 million, up 4.2 percent from last year. New car sales are expected to continue that momentum into the second half of the year, with a projected full-year total of 16.3 million, or up 4.9 percent compared to all of 2013.
Even though the new model year is approaching, car shoppers are apparently keeping that sales momentum rolling in August.
Related Link: Consumer Reports Takes Tesla To Task Over Driving 'Quirks' With The Model S
"Compact and midsize sedans are among the most popular segments in the United States," Jack Nerad, executive editorial director and executive market analyst for Kelley Blue Book's KBB.com, said in a press statement, "and this month consumers will be able to find red-hot deals on the Toyota Camry, Ford Fusion and Chevrolet Cruze."
Here's the Kelley Blue Book breakdown on five of the best autos deals out there right now:
5. Toyota (NYSE: TM) Camry
MSRP: $23,695
Fair Purchase Price: $21,698
$1,000 Cash Back + 0% Financing
60 months at $345/month
Current Deal Expires September 2, 2014
With little flash but proven reliability and great resale value, the Camry remains a favorite among those consumers looking for a solid sedan. The vehicle also has improved styling technology and fuel economy. KBB notes there's a big redesign expected for the 2015 model.
4. Cadillac (NYSE: GM) ATS
MSRP: $33,990
Fair Purchase Price: $32,104
36-month lease: $1,689 down, $299/month
Expires September 2, 2014
Kelley Blue Book describes the Cadillac ATS as a first in its field: an entry-level luxury sports sedan "with rear-wheel drive and great performance from an American manufacturer." It may be lacking a BMW or Mercedes medallion, but the ATS is seen as Cadillac's answer to sports sedans like the BMW 3 Series, in terms of design, performance and technology.
3. Chevrolet Cruze
MSRP: $20,735
Fair Purchase Price: $19,848
36-month lease: $1,849 down, $159/month
Expires September 2, 2014
With good fuel economy and a comfortable ride, GM's Cruze doesn't stand out from the pack. But KBB said it has the "soul of a midsize sedan" and doesn't feel like an economy car.
2. MAZDA (OTC: MZDAY) CX-9
MSRP: $30,815
Fair Purchase Price: $27,191
$1,000 Cash Back + 0% Financing
60 months at $437/month
Expires September 2, 2014
The CX-9 is currently Mazda's largest vehicle –- a three-row, seven-passenger SUV. Its V6 engine and responsive handling, according to KBB, make the vehicle a standout compared to other, comparable sports utility vehicles.
1. Fiat (OTC: FIATY) 500
MSRP: $18,350
Fair Purchase Price: $17,583
Cash Back: $3,000
60 months at $265/month
Expires September 2, 2014
The Fiat 500 heralds the Italian automaker's return to the U.S. market as part of its acquistion of Chrysler. While too small a car for some, the 500 seems to be gaining traction with city dwellers looking for a vehicle that's cost-effective, fuel-efficient and trendy. Getting $3,000 cash back doesn't hurt, either.
Posted-In: Auto Industry auto industry leases Auto Industry Sales automotive Jack NeradRetail Sales Travel General Best of Benzinga
View Comments and Join the Discussion!