3 Ways 3D Printing Could Revolutionize Disney's Parks, Toys And Movies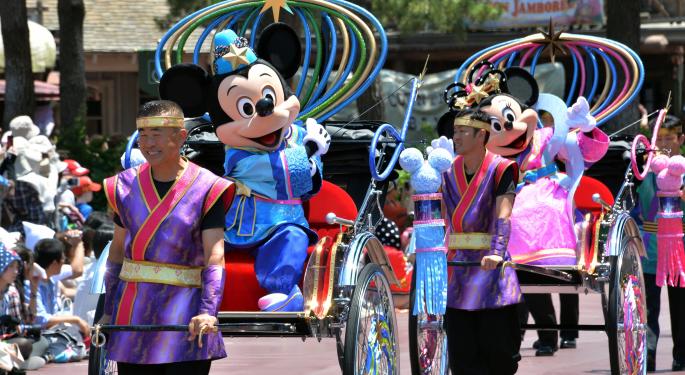 Disney (NYSE: DIS) researchers recently came up with a new algorithm that allowed them to print unique spinning tops and yo-yos. The results are unlike anything else the world has ever seen.
Disney has not indicated that it plans to sell these items, but they were on display at this year's SIGGRAPH conference. They could prove to be very important as the company examines other 3D printing concepts.
Read on to see what the technology could do for Disney's parks, toys and movies.
Faster Toys And Collectibles
Right now, Disney cannot react instantaneously to a hit movie that spawns a successful line of toys and/or collectibles. The company must go through the same old design channels before a new action figure hits the market.
Related Link: Where Will 3D Printing Be In 20 Years?
That could change with 3D printing. Imagine if Disney had been ready when Frozen became a global hit, or when the original Cars proved to be a cash cow with little boys. Disney could have launched new toys sooner, which would have resulted in faster sales. It may have also allowed the company to sell more items overall.
Disney could also install 3D printers at its theme parks and print special toys immediately. These could be exclusive designs that artists conceive on a daily or weekly basis, and could only be obtained by visiting a Disney park. This would allow Disney to create a plethora of unique toys and collectibles that consumers cannot find anywhere else.
Easier Animation
Animation is never easy, but 3D printing can definitely help the process along.
Laika (the studio behind Coraline and ParaNorman) used 3D printers to build dozens of individual molds for its next full-length feature, The Boxtrolls.
Disney tends to favor traditional animation and 3D (computer-generated) animation, but 3D printing could also help in this regard. The company could print a model of a character, examine it, tweak it and perfect it before it is ever seen on the big screen. Disney could also use this to build and experiment with toy concepts ahead of a film's release.
Better Attractions, Faster Development
Disney's spinning tops show that the company is thinking outside the box. The company could sell them, turn them into parts for a theme park attraction, or expand on the concept for something that's even bigger and better. At the very least, they could be put on display at Innoventions (a technology museum at Disney World and Disneyland).
In the near future, Disney could use 3D printers to build better and more intricate theme park attractions. These printers could also be used to shorten the development time, which would allow Disney to upgrade its parks at a much faster rate.
Disclosure: At the time of this writing, Louis Bedigian had no position in the equities mentioned in this report.
Posted-In: 3D Printing cars disney FrozenRumors Topics Tech General Best of Benzinga
View Comments and Join the Discussion!