3 Plastic Companies That Could Benefit From The 3D Printing Revolution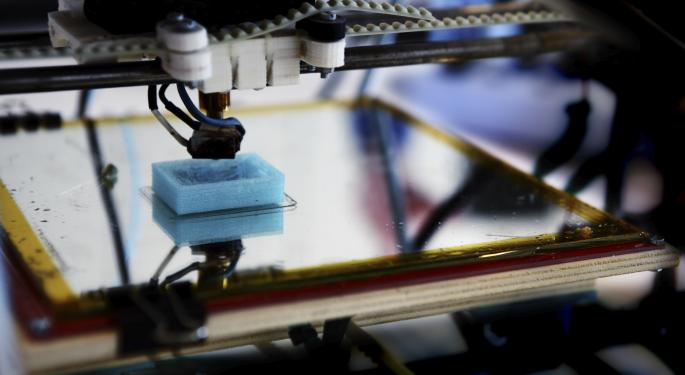 The potential of the new three-dimensional printing technology cannot be denied. Early adopters believe 3D printers will revolutionize both mass manufacturing and supply chain logistics over the next several decades.
A new 10-year forecast released last month by SmarTech Markets Publishing suggests 3D printing will also change the plastics production sector.
"Many 3D printer firms are racing to fill out their plastic material portfolios and are using them to create competitive advantages," the report notes. "At the same time, major materials companies are also starting to see 3D printing as a profitable niche market worth jumping into now, with the promise of large opportunities down the road."
Related Link: Consumer Reports Takes Tesla To Task Over Driving 'Quirks' With The Model S
Here's a handful of the plastics firms that could find themselves in high demand, as 3D printing technology goes mainstream in the near future.
BASF (OTC: BASFY)
The world's largest chemical company, German-based BASF, is a major producer of plastics. It launched a research initiative last year called the "North American Center for Research on Advanced Materials,"
The center is reportedly working with Harvard, MIT and the University of Massachusetts Amherst to "jointly develop new materials for the automotive, building and construction, and energy industries." These are all sectors expected to be affected by the 3D printing revolution.
ThyssenKrupp AG (OTC: TYEKF)
One of the plastic filaments currently used in 3D printing, Polylactic acid (PLA), is corn-based. One of the major companies leading in the research and development of this "bioplastic" is ThyssenKrup.
The German multinational put its pilot PLA production plant online in 2011. It also developed a process to develop PLA from lactic acid. The company notes that, given the rising use of plastics worldwide, "even if PLA replaces only part of this market, the sales potential for the bioplastic is immense."
Stratasys (NASDAQ: SSYS)
This company, with dual headquarters in Minnesota and Israel, is working at fulfilling a wide spectrum of the 3D printing sector's needs.
Along with holding nearly 500 granted or pending 3D printing patents worldwide, its portfolio also includes a variety of the specialized plastics –- such as PolyJet photopolymers and FDM thermoplastics –- needed to bring fine detail to the objects created by 3D printing.
View Comments and Join the Discussion!
Posted-In: 3D Printing 3D printing industry disruptive technology new technologyTopics Success Stories Tech General Best of Benzinga