5 Biggest Athlete Endorsement Deals Ever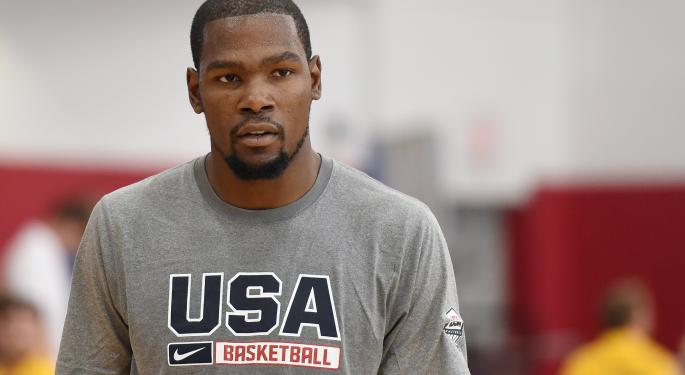 News that NBA MVP Kevin Durant is close to inking a $325 million endorsement deal with Under Armour (NYSE: UA) has had tongues wagging on Wall Street. Securities lawyers debated whether the company would have to disclose the deal to shareholders under the "material events" disclosure clause.
Durant's reported deal with Under Armour makes his previous (and soon to expire) deal with Nike (NYSE: NKE) of $60 million seem like chump change by comparison.
Celebrity endorsements, ruled mostly by professional athletes, are anything but "chump change." Witness the next four highest paid endorsement contracts according to The Gentlemen's Journal.
Related Link: Durant Sparkling Ice Deal Prompts Questions About The Value Of Celebrity Endorsements
Derrick Rose
Chicago Bulls point guard Derrick Rose, despite a serious knee injury, still holds an impressive $260 million endorsement deal with Adidas. Injury aside, Rose will likely be one of the greatest NBA players of a generation. It is likely that potential for sports legend fame and fortune that has kept Rose's contract with Adidas intact.
SportsOneSource analyst Matt Powell, however, told Time there may be a limit to corporate patience.
"They're not going to have the on-court exposure of him playing every night," Powell said."If he [Rose] sits out a whole year that's a long time to lose that exposure."
Rory McIlroy
Only $10 million behind Rose, PGA champion Rory McIlroy inked a $250 million endorsement deal with Nike in 2013.
Having just won the PGA Championship over the weekend, Nike's expensive bet on the current top-ranked golfer in the world may be about to pay off.
David Beckham
The nearly $161 million Adidas promised David Beckham, which came with a lifetime contract and a percentage of profits on his Adidas merchandise, marked an excellent return for the retired soccer player.
Beckham has actually endorsed more than 16 major brands in his career, including such diverse names as Armani, Yahoo and Burger King. His 2012-2013 endorsement income was reported by Forbes to be $42 million.
Related Link: Winners & Losers Of World Cup 2014
George Foreman
For boxer George Foreman, the products he promotes for Spectrum (NYSE: SPB) have become a household name. In exchange for the familiarity, Spectrum (formerly known as Salton, Inc.) paid Foreman $137.5 million for the rights. Prior to that, Foreman received 40 percent of profits from each George Foreman grill sold.
Tiger Woods
Domestic issues have cost Tiger Woods endorsement income, but not an extraordinary amount. His first contract with Nike in 2000 was for $105 million. The contract was renewed in 2005 and increased to $140 million.
After the golfer's fall from grace in 2009, his value (and contract) was reduced back to $105 million.
At the time of this writing, Jim Probasco had no position in any mentioned securities.
Posted-In: Adidas Burger King Chicago Bulls David Beckham Kevin Durant NikeTopics General Best of Benzinga
View Comments and Join the Discussion!