3 Analyst Outlooks On Market Response To U.S. Actions With Iraq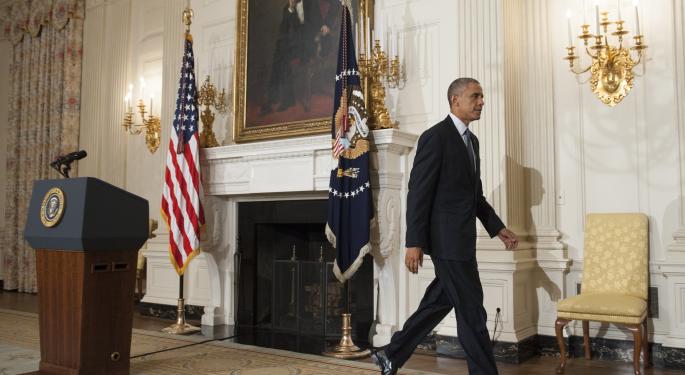 The Pentagon announced Friday that it had launched an airstrike against Islamic militants (originally operating as the Islamic State of Iraq and Syria, but recently renamed the Islamic State of Iraq and the Levant) in northern Iraq.
This came just hours after President Barack Obama said the United States would use its aircraft to protect American personnel in Erbil and to provide humanitarian aid to thousands of Iraqi refugees trapped on top of a mountain range.
Markets React
The U.K.'s FTSE dropped about 1 percent in early trading Friday following the president's Thursday announcement. Other European indexes also fell. In the U.S., the Dow, NASDAQ and S&P 500 all got off to a positive start Friday morning.
Analysts And Experts Sound Off
While it's not yet known how long U.S. attacks against ISIS would continue, those attacks and the relationship between the United States and the Iraqi government could potentially impact markets in both the short and long term, according to experts and analysts Benzinga contacted.
Related: Brent Climbs On Iraqi Conflict
Impact On Oil
LandColt Capital LP's founder and managing partner, Todd Schoenberger told Benzinga Friday, "This is the first time in six years the United States has initiated a military attack, so it will be interesting to see how the markets respond."
Schoenberger noted that so far the impact on stocks has been benign. That could change, he suggested, as early as over the weekend with questions likely to be asked about how involved the U.S. would become in Iraq.
The obvious sector to be impacted by these events is oil, Schoenberger said. At the time of this publication, Dow Jone U.S. Oil and Gas Index was up 1.46 percent.
"Oil stocks are up because we, so far, have been successful with the air strikes," Schoenberger said. "And, keep in mind, Iraq produces 2.6 percent of that daily inventory, so even with an uprising and continued conflict, it shouldn't have a significant impace on the price of crude."
In addition, he noted this (military engagement) was "new territory for this bull market."
According to Schoenberger, it will likely "deflate sentiment and confidence if it continues."
The Real Downside
Hamzei Analytics founder, Fari Hamzei said he expected markets initially to welcome the U.S. military action.
He predicted investors would rally as the "USAF moves in with precision weapons and tons of missile-nose camera hits," adding that such was the case in 1991 (Gulf War), 2001 (Afghanistan) and again in 2003 (Iraq).
Long term, however, Hamzei sees the defense of Baghdad and/or the oil fields and refineries of Kirkuk as much more critical.
"Erbil," he said, "is capital, but not the crown jewels for ISIL."
Ultimately, Hamzei said, the White House may become cornered and even forced to make a deal with Iran. All this, he suggested, could ultimately result in a scenario featuring Iran's Quds Forces leading on the ground while the U.S. military provides air cover.
"I think only then," Hamzei concluded, "the markets will figure out the real downside."
Related: Markets Little Changed As Ukraine Uncertainty And Fears Persist
Potential rise in interest rates
Noted author and former Northwestern University adjunct instructor on managed futures, Mark Melin, observed that the United States is the "sole and dominate world reserve currency."
Because of this, Melin said, the U.S. can "engage in all sorts of financial gymnastics that expand the national debt and allow the Federal Reserve to utilize historic stimulus to pump up the economy."
"If the U.S. loses its status as the world reserve currency of choice," Melin cautioned, "it would lead to a fall in the U.S. dollar and a rise in interest rates -- potentially a dramatic rise."
As to how that could happen, Melin said all it would take would be for radical forces (like ISIS) to replace more moderate forces in Iraq, Syria, Libya and other parts of the Middle East.
"If the issue isn't properly addressed," Melin said, "five years from now, we could see several radical countries aligned together opposing the U.S. in a move that would shift the balance of power in the region in a negative way."
At the time of this writing, Jim Probasco had no position in any mentioned securities.
View Comments and Join the Discussion!
Posted-In: Benzinga DOW Fari Hamzei Hamzei AnalyticsPolitics Events Media General Best of Benzinga