Benzinga's M&A Chatter for Wednesday August 6, 2014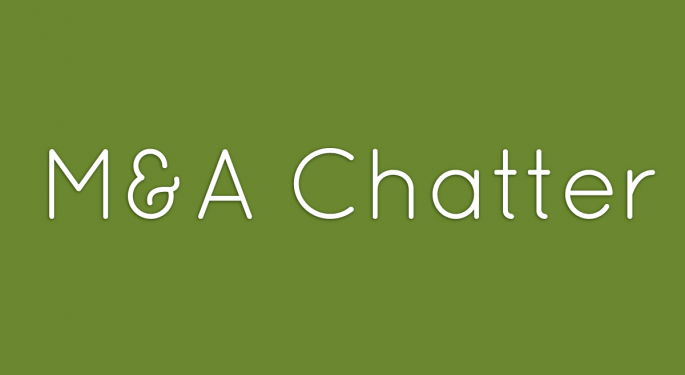 The following are the M&A deals, rumors and chatter circulating on Wall Street for Wednesday August 6, 2014:
Renewed Takeover Chatter in Pandora
The Rumor:
Shares of Pandora Media (NYSE: P) spiked higher Wednesday on renewed takeover chatter. Yahoo (NASDAQ: YHOO) was mentioned as the rumored buyer today. On July 30, AT&T (NYSE: T) was mentioned as a potential acquirer.
Spokespersons for Pandora and Yahoo did not respond to requests for comment.
Shares of Pandora Media closed Wednesday at $25.29, a gain of 1.5%.
Walgreen to Acquire Remaining 55% Stake in Alliance Boots
The Deal:
Walgreen (NYSE: WAG) announced Wednesday, it has exercised its option to complete the second step of its strategic transaction with Alliance Boots GmbH ahead of the original option period, which was between February and August 2015. The transaction, subject to shareholder and regulatory approvals, would fully combine the two companies.
Walgreen acquired a 45% equity stake in Alliance Boots in June 2012, and will be acquiring the remaining 55% of Alliance Boots for £3,133 million in cash. Walgreen expects the deal to close in Q1 2015.
The combined Walgreens Boots Alliance business will be domiciled in the United States and headquartered in the Chicago area. Walgreens operations will remain headquartered in Deerfield, Il, while Boots will remain headquartered in Nottingham, U.K.
Walgreen closed Wednesday at $59.21, a loss of 14%.
Sprint Ends Pursuit of T-Mobile Acquisition
The Rumor:
Shares of Sprint (NYSE: S) fell sharply Wednesday, as the number 3 mobile carrier following multiple reports that it dropped its bid for the number four carrier, T-Mobile (NASDAQ: TMUS). Regulatory concerns were cited as the major reason.
Sprint did confirm Wednesday that CEO Dan Hesse was being replaced by Marcelo Claure, who was named the company's new President and CEO.
A spokesperson for Iliad (OTC: ILIAY) declined comment on Sprint ending its it bid for T-Mobile, and was not able to confirm when a statement would be issued. Iliad bid $15B on July 31 for T-Mobile.
Sprint closed at $5.90 Wednesday, a drop of 19% on ten times average volume.
Tibco Software Reportedly Seeking Buyer
The Rumor:
Shares of Tibco Software (NASDAQ: TIBX) exploded higher Wednesday, following a Dow Jones report the company is considering a sale and has reached out to private equity firms. Tibco has been the subject of frequent takeover rumors.
Herb Greenberg, speaking on CNBC, mentioned Hewlett-Packard (NYSE: HPQ) and IBM (NYSE: IBM) as potential buyers.
A spokesperson for Tibco was not available for comment. A Hewlett-Packard spokesperson declined comment.
Tibco Software shares closed Wednesday at $20.75, a gain of 7.5%.
Report Kellogg Considering £2B United Biscuits Bid
The Rumor:
Shares of Kellogg (NYSE: K) rose steadily Wednesday, following a report from Sky News that the cereal maker was considering a £2 billion bid for United Biscuits and had hired Barclays to assist in the process. United Biscuits owners Blackstone (NYSE: BX) and PAI Partners, reportedly hired Goldman Sachs and JPMorgan to handle a potential sale or IPO.
Reuters later reported that United Biscuits was not in sale talks with Kellogg, according to sources.
Kellogg closed Wednesday at $62.78, a gain of more than 2%.
Posted-In: News
View Comments and Join the Discussion!