$3 Per Gallon Could Be Coming Soon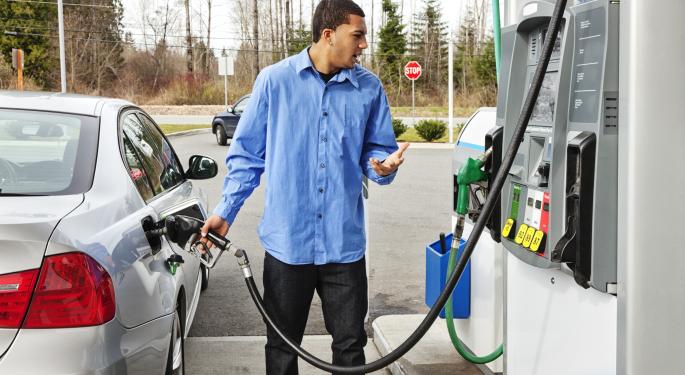 GasBuddy reported this week that this year's August 1 nationwide average gasoline price of $3.509/gal is the lowest in four years.
In addition, GasBuddy Chief Oil Analyst Tom Kloza told Benzinga that some broad sections of the country could see gasoline priced at $3/gal or less by the end of the year.
Expect a Slight Price Bump
According to Kloza, lower refinery runs between now and mid-September could result in a "slight recovery" in gasoline and diesel prices.
The brief pull back, Kloza said, comes between a seasonal peak refinery run in early July and a normal traditional second peak run just before Christmas.
Recipe for Cheaper Gas
The combination of the second peak and the availability of cheap components used as part of the "recipe" to manufacture autumn and winter gasoline, Kloza noted, would keep prices low throughout the fall and winter months.
Kloza used normal butane as an example. This inexpensive component, which costs about $1.25/gal, has high octane and high vapor pressure, and can be added to the formula after the ozone season concludes in order to help lower prices.
Related Link: Busy Refineries Push Summer Gasoline Prices Down
Location, Location, Location
The entire country should see lower gas prices in the fall and winter with a nationwide average of less than $3.25/gal sometime in Q4, Kloza said.
The southeast, much of the Midwest and Great Lakes, and even the Rockies will benefit most, Kloza predicted, with gas prices set at $3/gal or less for unleaded regular.
Currently, he said, GasBuddy has about 60-70 sites showing gasoline at $3/gal or less. He expected that number to expand by thousands once autumn gas becomes available.
Ethanol
Despite what would seem to be an obvious connection, Kloza said refinery output actually does not have much impact on ethanol production.
"Ethanol output and placement will rely on traditional gasoline demand as well as the occasional exports," Kloza told Benzinga.
Kloza noted that ethanol was extremely cheap in forward markets with companies buying it for all of calendar 2015 for about $1.65/gal (in Chicago). This, he said, was about $1/gal below gasoline blendstock prices.
Related Link: Brent Steady As Geopolitical Worry Weighs In
Price Disparity Causes
Responding to a question about the reason for the huge price disparity between the top 5 percent and bottom 5 percent of gas prices, Kloza cited two different philosophies and a number of different business plans.
Essentially, he said, big box retailers like Costco (NASDAQ: COST), Wal-Mart (NYSE: WMT)-owned Sam's Club and others sell gas at a very slim (pennies on the gallon) margin. They want to be competitive and drive traffic into stores.
Traditional large corporate sellers like Shell (NYSE: RDS-A) and Chevron (NYSE: CVX) believe they can get consumers to pay higher prices for what they promote as "more special gasoline" even though in many cases those additives represent only a tiny fraction of the actual fuel dispensed.
Finally, traditional "Mom & Pop" retailers are less competitive, but often serve unique and sometimes underserved locations.
The GasBuddy Solution
Ultimately, Kloza noted, the best hedge against overpaying for gasoline is price comparison. One way to do that, of course, is with the free GasBuddy app.
At the time of this writing, Jim Probasco had no position in any mentioned securities.
Posted-In: Benzinga Chevron Costco ethanol GasBuddyTravel Personal Finance General Best of Benzinga
View Comments and Join the Discussion!