Did George Soros Sell His Stake In Israeli-Based SodaStream Because Of Political Reasons?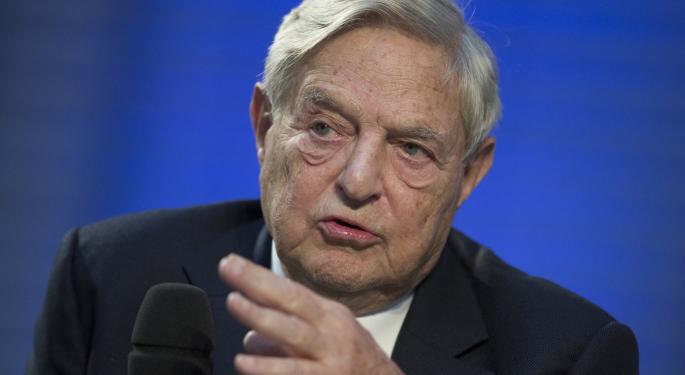 As Israel battles Hamas within the Gaza strip, many Israeli-based companies continue to be targeted by the international community for boycott.
Israeli based SodaStream (NASDAQ: SODA) is one of the many companies targeted by the BDS (Boycott, Divestment and Sanctions) Movement because of a manufacturing facility located in Maale Adumim, a settlement within the West Bank.
George Soros and his Soros Fund Management first reported a $24.3 million stake in SodaStream earlier this year, representing 0.3 percent of his entire portfolio.
"Soros Fund Management does not own shares of SodaStream," a spokesperson for Soros confirmed to The National. The spokesperson declined to comment on when the multi-billionaire sold his stake.
It is unclear if Soros sold his stake because of political reasons or if he is simply cutting losses, as shares of SodaStream were trading at 52-week lows of $28.65 just a few weeks ago.
Shares of SodaStream have been rallying since the company reported a better than expected second quarter results on July 30.
"After pressure from Soros partners in the region and the world, they dropped SodaStream and promised, in private letters so far, to issue guidelines similar to those adopted by the EU to prevent any investment into companies that sustain the Israeli occupation and settlements in particular," Omar Barghouti, a Palestinian activist and co-founder of the BDS movement told The National.
It is unclear at this time if Soros still owns shares of Israeli based Teva Pharmaceuticals (NASDAQ: TEVA), which was listed as his fund's largest holding at the end of 2013.
Shares of SodaStream were trading lower by 0.55 percent on Monday afternoon.
View Comments and Join the Discussion!
Posted-In: BDS Gaza Hamas israelNews Politics Global General Best of Benzinga