How Starbucks Is Boosting Profits With Redesigned Stores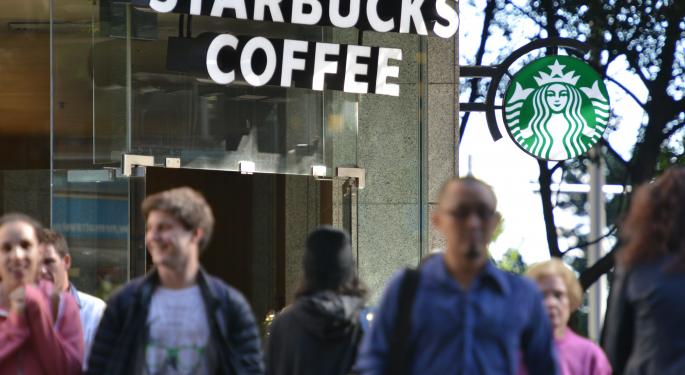 Starbucks (NASDAQ: SBUX) is remodeling its retail stores to have a more community-reflected, localized feel to them. It's boosting profit margins, according to Brian Sozzi, CEO and chief equities analyst for Belus Capital Advisors.
In an article for TheStreet, Sozzi interviewed Starbucks vice president of design for the Americas, Bill Sleeth.
Sleeth told him that the remodels are designed to provide a more communal feel, which includes higher tables to create conversation, pairing round top tables with banquet seating against the wall and positioning tables in a manner so that customer sight lines aren't obscured.
"Remodeling Starbucks stores is not necessarily new," Sozzi told Benzinga. "They've been doing more of this increasingly over the past six months."
See Also: 3 Big Companies That Dominate The Organic Foods Market
Starbucks has seen a rise in gross profit margins since the coffee retailer began to increase its capital expenditures in early 2012, Sozzi said in his article. With capital expenditures of $247.5 million in the second quarter of FY 2014, Sozzi explained, Starbucks saw its gross profit margin rise from 55.8 percent to 57.9 percent.
"The data suggests that locally relevant store designs are attracting new customers," Sozzi writes, "and convincing them to stay longer to buy more than one cup of java."
Going Local
The idea is to make the Starbucks locations more localized so they can compete with the small, local coffee houses, Sozzi said.
Pic of our new store in Orlando. Grass roof grown in soil enriched w coffee grounds! #starbucksdesign pic.twitter.com/rucQL4fNdn

— Bill Sleeth (@Bill_Sleeth) May 30, 2014
Starbucks has 14 design studios across the United States. Sozzi said that designers are trying to get to know local communities and then reflect the sentiments in their stores. In these remodeled stores, you can see local artwork hanging on the walls or even local images drawn on chalkboards.
Financial writer David Bakke told Benzinga that his local Starbucks has a board where customers can post flyers on upcoming events, new business openings and other local happenings. He said this goes a long way in improving the store's charm and gives the customers a better sense of community. For this reason, he thinks that major retailers can actually compete with the charms of a local shop.
See Also: 3 Reasons Why Crowdfunding Is The Investment Tool Of Millenials
According to interior designer Holly Baird, however, Starbucks' efforts have to be sincere if it wants to compete with those local shops.
"The type of customer that values the charm of a local store will not fall for insincere gimmicks," Baird told Benzinga. "If a company is willing to be an active part of the community, their odds of being accepted by the community improve."
The Power Of Redesign
Although Sozzi said he hasn't seen any other major retailers trying to take the local approach, this isn't the first time a company revamp its store designs to create a unique experience. Best Buy is one example, Sozzi said.
The electronics retailer recently redesigned its stores so that instead of a DVD or CD section, it has specific Google and Apple sections with dedicated workers for each. Sozzi said the store redesigns are going to be a continued source of profit for Starbucks.
"I think this [design] team is continuously keep looking at how to even better the remodeled stores," he said.
Posted-In: Belus Capital Advisors Brian Sozzi comments David BakkePsychology Restaurants Success Stories General Best of Benzinga
View Comments and Join the Discussion!