3 Energy Sectors That Would Benefit From Planned Carbon Emission Reductions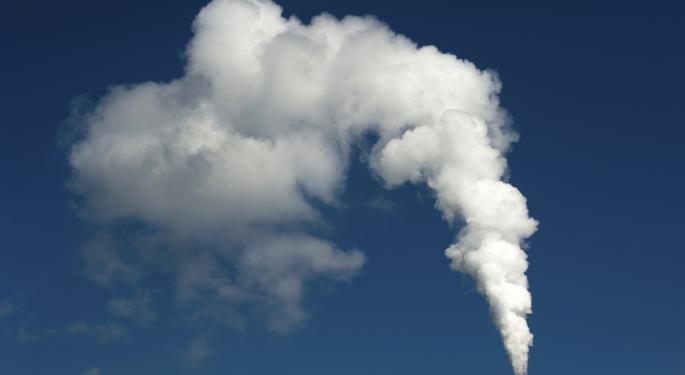 President Barack Obama's plan to fight climate change, by reducing carbon emissions and other greenhouse gases from America's power plants, particularly from coal-fired facilities, has come under criticism.
Federal regulators recently expressed their concerns. Testifying before Congress, commissioners from the Federal Energy Regulatory Commission said the program -– which the EPA said is expected to cut carbon emissions from the nation's power sector by 30 percent below 2005 levels by the year 2030 –- could raise costs and affect the future reliability of the U.S. electrical grid.
But being that the U.S. is the world's largest producer and consumer of environmental protection technology, the Administration's plan could also have some long-term economic benefits.
Related Link: Ford's Defection From BlackBerry: More Than Just A Change In Smartphones
In 2008, according to the EPA, the nation's environmental technology and service industry supported 1.7 million jobs. This was while generating about $300 billion in revenues.
There are some other sectors that could see financial blue skies, once the climate change plan gathers momentum.
Renewable Energy
Last year, according to the U.S. Energy Information Administration, renewable sources of energy accounted for about 10 percent of the nation's total energy consumption and 13 percent of its electricity generation. Those percentages are increasing, albeit slowly.
The Obama Administration is also working to make the development and construction of wind, solar and geothermal energy projects less expensive.
The Associated Press reported that these incentives "will help companies that provide equipment for, build and finance large wind and solar farms," including First Solar (NASDAQ: FSLR), SunPower (NASDAQ: SPWR), General Electric (NYSE: GE) and Siemens (OTC: SIEGY).
Energy Efficiency
Companies that specialize in making homes and businesses more energy efficient –- by updating heating and cooling systems, installing high-tech windows and otherwise improving insulation -– are also expected to benefit from the new carbon emission reduction plans.
Upgraded building insulation can be a particular useful energy saver. The North American Insulation Manufacturers Association said the insulation currently in place in U.S. buildings reduces the amount of carbon dioxide generated annually by 780 million tons; this is the equivalent of 150 coal-fired power plants.
A new emphasis on energy efficiency could benefit insulation giant Owens Corning (NYSE: OC), as well as the privately-held window and door manufacturer Andersen and Carrier, a heating and air conditioning subsidiary of United Technologies (NYSE: UTX).
Natural Gas
The transition away from coal-fired power plants is certain to further benefit America's already burgeoning natural gas industry, which has taken off thanks to the rising in hydraulic fracturing, or "fracking," techniques.
"Natural gas has an excellent track record in lowering carbon emissions, as we witnessed in 2012 when power plants consumed more natural gas than ever in history and emissions reached a 20-year low," Dena Wiggins, president and CEO of the Natural Gas Supply Association, said in a statement this past June.
"We are proud to play a part in lowering emissions," she added, "and hope that as the EPA and states design their carbon reduction programs, they will continue to realize the emission benefits provided by the competitive natural gas market."
Chesapeake Energy (NYSE: CHK) has made its name and built its success on its natural gas production. Not surprisingly, some of the nation's top natural gas producers are also major oil companies, including ExxonMobil (NYSE: XOM), Anadarko (NYSE: APC), BP (NYSE: BP) and ConocoPhilips (NYSE: COP).
Posted-In: Barack Obama carbon emissions climate changeCommodities Movers & Shakers Economics Markets General Best of Benzinga
View Comments and Join the Discussion!