Unique 3D Startups And The Public Companies That Should Buy Them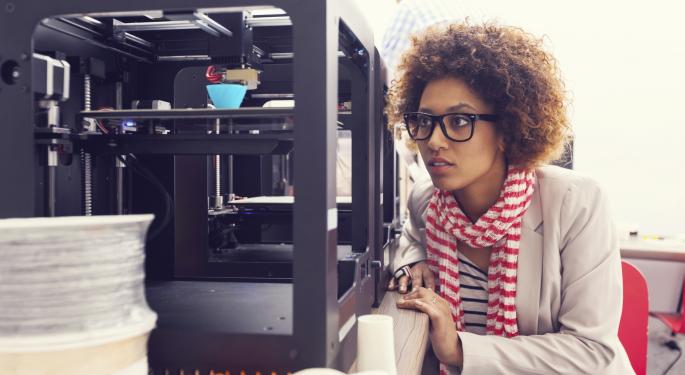 As the 3D space shows signs of becoming less novelty and more mainstream, the idea of acquiring 3D startups does too.
Here are five 3D startups, each with a unique niche, along with publicly traded companies that could have reason to be interested in acquiring them – someday.
My Mini Factory
My Mini Factory launched last year and, according to founder/entrepreneur, Sylvain Preumont, aims to become the YouTube of 3D files. The website allows users to download free 3D printable designs, upload their own designs (from which they can make money), and request custom printed 3D objects.
As 3D printing and printer sales grow, so will demand for pre-designed objects to print. As a repository for those designs, My Mini Factory could represent a unique investment for companies including major 3D printer-maker 3D Systems (NYSE: DDD), which has shown interest in expanding its service offerings.
Related: 5 Big Companies Seriously Investing In 3D Printing
Pirate 3D
Price has been holding back 3D printer sales. MakerBot's latest model, Replicator 2, costs anywhere from $1,500 to $2,100, depending on supplier. Palo Alto-based startup Pirate 3D makes a model called Buccaneer that will sell for about $350.
The first run of printers, according to a recent Pirate 3D blog post, will take place in November. Advertising itself as "The World's Friendliest 3D Printer," the combination of low cost and ease-of-use could make Pirate 3D and its Buccaneer attractive to a company like Hewlett-Packard (NYSE: HPQ), which said in March it planned to enter the 3D printer market.
Organovo
Biotech startup, Organovo (NYSE: ONVO), has focused on the development of 3D printed biological materials. Since its founding in 2007, the company has conducted groundbreaking research in creating synthetic human-like tissues.
In addition to potential use as replacement organs and tissue, these materials could also be used by researchers to test the effects of new drugs.
With the recently announced partnership between Organovo and Johnson & Johnson (NYSE: JNJ) division Janssen Research and Development already on the books, it would not be a stretch to see the partnership turn into something more serious down the road.
Related: 3D Printing Enters The Retail Space At Home Depot
Dreambox
Companies like Shapeways that sell 3D printed objects lack the immediacy that some consumers demand. Enter Dreambox, the brainstorm of three UC Berkeley undergrads.
Dreambox is a 3D printing vending machine, currently housed only on the UC Berkeley campus. That status wouldn't last long if an enterprise like Crane (NYSE: CR) a large-scale manufacturer of automatic vending machines decided to pounce.
Thinker Thing
Think of an object. What if you could turn that thought into the actual object? Startup Thinker Thing is in the process of turning that idea into reality.
The company is creating software that would allow the user to put on an EEG headset, picture an object and have that object printed by a 3D printer.
Thinker Thing would seem to be of obvious interest to at least one very large tech company that has already shown a desire to connect computers and brains: Google (NASDAQ: GOOGL).
At the time of this writing, Jim Probasco had no position in any mentioned securities.
Posted-In: 3D 3D Systems crane GoogleTopics Startups Tech General Best of Benzinga
View Comments and Join the Discussion!