5 Family-Friendly Employers For Working Parents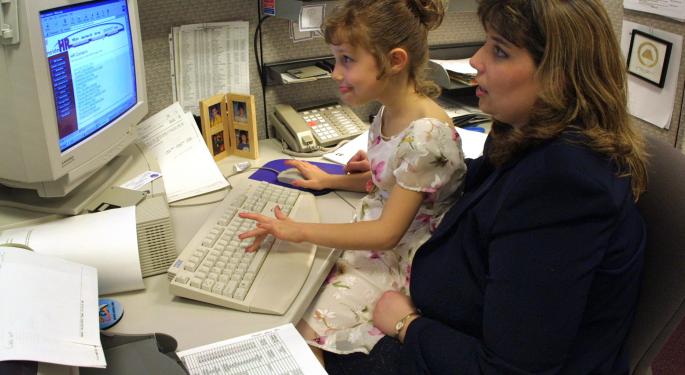 A family-friendly employer doesn't just make it possible for parents who work there to care for their children without worrying about jeopardizing their job status.
In addition, a true family-friendly employer also provides useful benefits that match the needs of working parents.
Here are five of the friendliest, according to Working Mother magazine. Benefits and working conditions taken into account include schedule flexibility, paid family leave, and the availability of child care and other child-related perks.
Abbott Labs
In addition to being named one of the top 10 family-friendly employers by Working Mother, health care company Abbott Laboratories (NYSE: ABT) has garnered numerous other awards including as one of Fortune's Most Admired Companies, a top adoption-friendly workplace by The Dave Thomas Foundation, and Best Family Friendly Management accreditation by the Korea Ministry of Gender Equality and Family.
Although Abbott provides paid maternity and paternity leave, paid adoption leave and a child care benefit, the company's innovative flextime work schedule has been found useful by 97 percent of the workforce.
Other innovations include $10,000 in adoption aid and $50,000 for fertility or IVF coverage.
Related: Abbott Laboratories Conference Call Highlights
General Mills
Family-friendly perks General Mills (NYSE: GIS) employees receive, according to Fortune, include on-site child care, job sharing and compressed workweeks.
In addition, Working Mother said, the company's on-site beauty salon, cafeteria, day care, gym, gas station, tailor and medical clinic (including dental and vision care) are real time-savers for parents on the go.
Other advantages include paid sabbatical leave; paid maternity, paternity, and adoptive leave; and the ability to telecommute, a perk taken advantage of by virtually all General Mills employees.
IBM
International Business Machines' (NYSE: IBM) approach to family concerns includes finances. The company offers unlimited free financial counseling to all employees.
Low-cost day care services, college 529 plans and scholarship availability also help parents manage the family budget. These resources sprang from the fact that more than 20 years ago IBM launched the first national corporate child care initiative, which became a five-year, $25 million IBM Funds for Dependent Care Initiative designed to help employees achieve balance between work and family life.
Parents who are in poor health cannot care for their children, a fact IBM recognizes through a unique incentive that pays families up to $300 each year for eating right, exercising and other healthy behaviors.
Related: IBM Watson Acquires Cognea To Offer Conversational Virtual Personalities
Procter & Gamble
Personalized work schedules are also a big part of the family friendly policies of Procter & Gamble (NYSE: PG). Another component is education. Two years ago the company brought in a team of work life professionals to help more than 2,500 P&G employees deal with everything from health and wellness to financial matters, and even issues related to education.
Nearly all Procter & Gamble employees telecommute as part of their workweek. In addition, flextime schedules are the norm for workers.
P&G's family friendly reach has been both worldwide and beyond the employee base with the company winning Best Company in Community Involvement, including Child Focused Corporate Social Responsibility (CSR) three years ago in Nigeria.
Related: 6 Major Retailers Starting Back-To-School Campaigns
Prudential Financial
Financial services firm, Prudential Financial (NYSE: PRU) lets employees who are new mothers take up to 26 job-guaranteed weeks off, nine of which are partially paid. In addition, employees can earn up to 36 days of paid time off each year, something many parents use to supplement the paid leave.
Adoption is encouraged with an allowance of up to 11 weeks off and as much as $10,000 in adoption expense reimbursement. The Dave Thomas Association ranked Prudential as one of the top 100 adoption-friendly workplaces.
Once the child arrives, the benefits continue. Additional perks include a solid lactation program, infant transition services, child care and eight on-site wellness centers.
Up to 90 percent of Prudential employees take advantage of a flextime schedule, and 79 percent telecommute.
At the time of this writing, Jim Probasco had no position in any mentioned securities.
View Comments and Join the Discussion!
Posted-In: abbott laboratories Dave Thomas Fortune General MillsNews Events Media Personal Finance Best of Benzinga