Benzinga's M&A Chatter for Wednesday July 30, 2014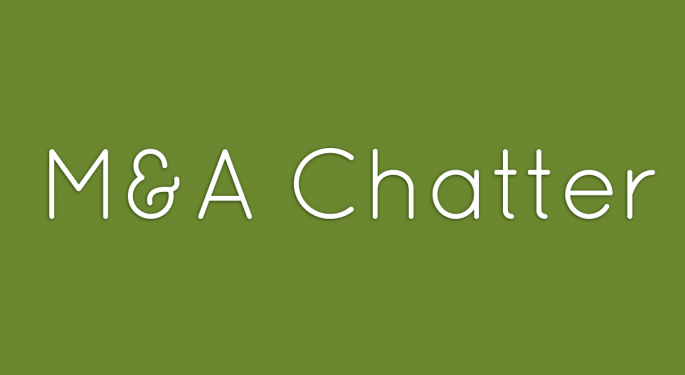 The following are the M&A deals, rumors and chatter circulating on Wall Street for Wednesday July 30, 2014:
Report of Interest in Shutterfly
The Rumor:
Shares of Shutterfly (NASDAQ: SFLY) Spiked higher Wednesday, on a report from Deal Reporter, the digital photo site has attracted interest from potential buyers that include Apple (NASDAQ: AAPL), Microsoft (NASDAQ: MSFT) and Hewlett-Packard (NYSE: HPQ).
A spokesperson for Shutterfly was not available for comment. A Hewlett-Packard spokesperson declined comment on the rumor.
Shutterfly shares closed Wednesday at $47.49, a gain of more than 2%.
3D Systems to Acquire Simbionix for $120M in Cash
The Deal:
3D Systems (NYSE: DDD) announced Wednesday, that it has an agreement to acquire provider of 3D virtual reality surgical simulation and training, Simbionix, for $120 million in cash. The deal is expected to close within the next 30 days.
3D Systems closed Wednesday at $56.07, and traded at $56.50 after-hours.
Rumor of AT&T Interest in Pandora
The Rumor:
Shares of Pandora (NYSE: P) moved as high as $26.26 Wednesday, following unconfirmed market chatter it was being pursued by AT&T (NYSE: T). The note mentioned that the Pandora service might be incorporated into AT&T's U-Verse service.
AT&T declined comment on the rumor. A Pandora spokesperson was not available for comment.
Pandora closed Wednesday at $25.98, a gain of 1%.
Bison Makes Non-Binding Offer of $9.80/ADS for NQ Mobile
The Offer:
NQ Mobile (NYSE: NQ) announced Wednesday that its board of directors has received a non-binding proposal from Bison Capital to acquire all of NQ's outstanding shares and ADS's for $9.80 per ADS in cash. NQ's Board said it is reviewing the proposal and there no assurance that any definitive offer will be made, or agreement executed.
NQ Mobile shares hit a high of $9.19 in the premarket and ended the day at $7.44, a gain of almost 8%.
Report ZF, TRW Could Finalize Deal in Weeks
The Rumor:
Shares of TRW Automotive (NYSE: TRW) initially spiked higher Wednesday, then sold off, on a report from Reuters that Germany's ZF Friedrichshafen is in advanced talks to acquire TRW for around $12 billion, or $105 per share, according to sources.
A spokesperson for TRW told Benzinga only they reiterate their July 10 press release confirming receipt of a proposal. A ZF spokesperson said they were unable to comment on anything related to TRW.
TRW shares closed Wednesday at $101.75, a loss of 2.73%.
View Comments and Join the Discussion!