Benzinga's M&A Chatter for Tuesday July 29, 2014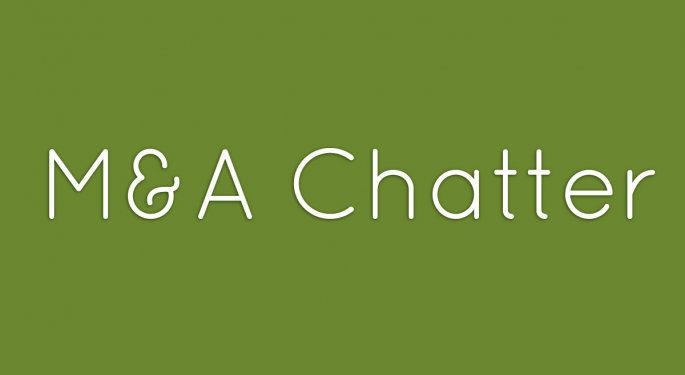 The following are the M&A deals, rumors and chatter circulating on Wall Street for Tuesday July 29, 2014:
Blackberry to Acquire Secusmart
The Deal:
BlackBerry (NASDAQ: BBRY) has agreed to acquire Secusmart, which develops and implements comprehensive anti-eavesdropping solutions. Terms of the deal were not disclosed.
BlackBerry shares closed Tuesday at $9.51, a loss 4.5%.
Hearing Unconfirmed Takeover Chatter in RF Micro Devices, Texas Instruments Rumored Bidder $14-$15 Range
The Rumor:
Shares of RF Micro Devices (NASDAQ: RFMD) moved steadily higher Tuesday morning, on unconfirmed market chatter that Texas Instruments (NASDAQ: TXN) could bid $14 to $15 per share for the manufacturer of high-performance semiconductor components. RF Micro Devices announced a deal to acquire TriQuint SemiConductor on February 24 for $9.73 per share.
Spokespersons for the companies were not available for comment.
RF Micro Devices shares closed Tuesday at $11.38, a gain of more than 4%.
XPO Logistics to Acquire New Breed Logistics for $615M
The Deal:
XPO Logistics (NYSE: XPO) announced Tuesday, that it has entered into a definitive agreement to acquire New Breed Holding Company, the preeminent U.S. provider of non-asset based, complex, technology-enabled contract logistics for blue chip customers. The purchase price is $615 million.
The deal is expected to close in Q3 2014.
XPO Logistics closed Tuesday at $26.03, and traded over $27.00 after hours, following the company's Q2 earnings report.
AmREIT Rejects $22.00/Share Offer from Regency Centers
The Rejection:
AmREIT (NYSE: AMRE) announced Tuesday, that its Board of Directors has rejected the previously announced unsolicited and conditional proposal by Regency Centers Corporation (NYSE: REG) of $22.00 per share. The proposal was received on July 10. The Board has decided to explore strategic alternatives.
AmREIT shares closed Tuesday at $23.32, a loss of $0.12.
View Comments and Join the Discussion!