3 Things Steve Ballmer Did Right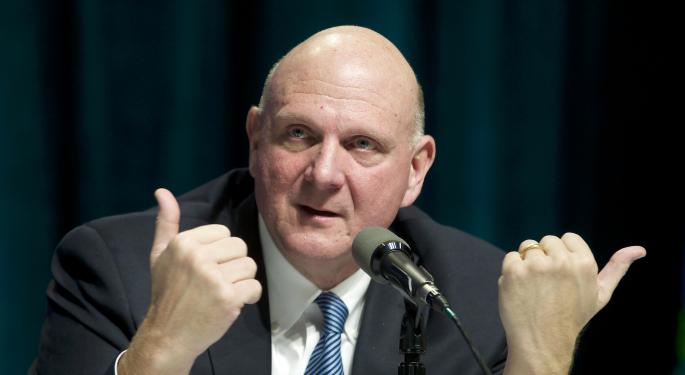 Microsoft (NASDAQ: MSFT) CEO Satya Nadella has been praised for cleaning up the mess created by former chief executive Steve Ballmer.
As Ballmer's departure approached earlier this year, critics continued to complain about his various mistakes. Not one to shy away from criticism, Ballmer also shared a list of the decisions he personally regretted. After reading those negative reports, it might be difficult for investors to remember that Ballmer actually did some good while he was at the Windows maker.
Cole Wilcox, portfolio manager and CEO of Longboard Asset Management, recently walked Benzinga through the list of things that he believes Ballmer did right while he was in charge of Microsoft.
Related Link: Microsoft Layoffs Won't Derail Its 'Aggressive' Strategy Against Apple
He Restructured The Business
Wilcox said all of the things that are happening right now (most notably the company's restructuring) were started by Ballmer. Nadella, he noted, has not been with the company long enough to have put his stamp on anything just yet. The good -- and the bad -- can still be tied to Ballmer.
He Pushed For New Retail Outlets
Wilcox thinks the success of Ballmer's retail strategy "depends on how you view" the situation.
"You get a lot of foot traffic through stores," he added. "What's the value of customer traffic, brand retention? I think, going forward from here, those stores might end up becoming more important to the business as a whole as Microsoft has better products at the hardware level. Apple Stores have really great products that are really cool, which [you may not know are cool] until you can use them."
In the past, Microsoft did not need to have a retail presence. Now that Surface and other products have arrived, Wilcox said the stores have become "much more relevant."
He Knew When To Quit
Retirement isn't for everybody. If Ballmer could have stayed with Microsoft forever, he probably would have. Instead, the boisterous executive is embarking on another journey as the potential owner of the Los Angeles Clippers.
"One of the impressive things for me was the self-realization that he wasn't the right person to take Microsoft to the next level," said Wilcox. "He started the restructure process -- he did a lot of great things, a lot of heavy lifting, to get stuff moving. He put the right people in the right roles. Satya was put into a position to develop a lot of these things."
Wilcox denied the notion that Ballmer was forced out.
"Steve, I believe, is the largest individual shareholder [in Microsoft] now," he said. "If anybody has the best of interest in the future success of Microsoft, it's Steve. I'm not saying he didn't take feedback -- people obviously gave him feedback -- but I believe the decision to go forward was something that ultimately Steve made on his own. But he wasn't forced out of the company."
Disclosure: At the time of this writing, Louis Bedigian had no position in the equities mentioned in this report.
View Comments and Join the Discussion!
Posted-In: Cole Wilcox interactive technology Longboard Asset ManagementNews Management Success Stories Tech Interview Best of Benzinga