Overseas Automakers Scored Well With Consumers During World Cup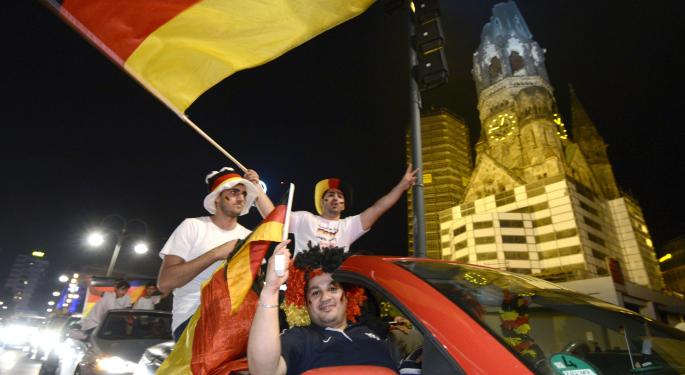 Germany wasn't the only winner to come out of the 2014 World Cup.
A wide spectrum of broadcasters and companies scored well when it came to raising their profiles with consumers.
According to Kelley Blue Book, automakers that advertised during the international soccer tournament saw twice as much growth in consumer interest on the company's website when compared to auto companies that didn't advertise during the event.
Related Link: Denver Airport Rental Car Companies Scour Vehicles For Marijuana Left By Tourists
"By creating entertaining, soccer-specific commercials, World Cup automotive advertisers Kia, Volkswagen, Hyundai and Nissan successfully generated interest around their brand and models, driving consumer research activity on KBB.com," Arthur Henry, an analyst for KBB.com, said in a press statement. "Each advertiser also highlighted elements of the game that were relatable to the casual American soccer fan."
Kia (OTC: KIMTF), the official automotive partner of FIFA, the international soccer governing body, and Volkswagen (OTC: VLKAY), reportedly tied for first place when it came to consumer interest during the World Cup. Both companies experienced an 18 percent increase in new car searches when their respective ads were broadcast.
Hyundai (OTC: HYMLF), meanwhile, reportedly saw a 14 percent surge in consumer interest when its ads were aired, while Nissan (OTC: NSANY) had a 12 percent rise.
KBB said the greatest surge in U.S. traffic took place when the U.S. Men's team was playing against Portugal and Germany in high-profile games. The company noted that Volkswagen's consumer surges likely took place because the German-based company "benefits from its large following among soccer fans."
Then, of course, there were the Kia World Cup ads featuring Brazilian supermodel Adriana Lima. Kelley Blue Book said those ads gave Kia a consumer boost similar to the one the automaker received during commercials featuring Lima during the 2012 Super Bowl.
View Comments and Join the Discussion!
Posted-In: ads advertising Arthur Henry automakers automotive industry carsPsychology General Best of Benzinga