5 Big Companies Seriously Investing In 3D Printing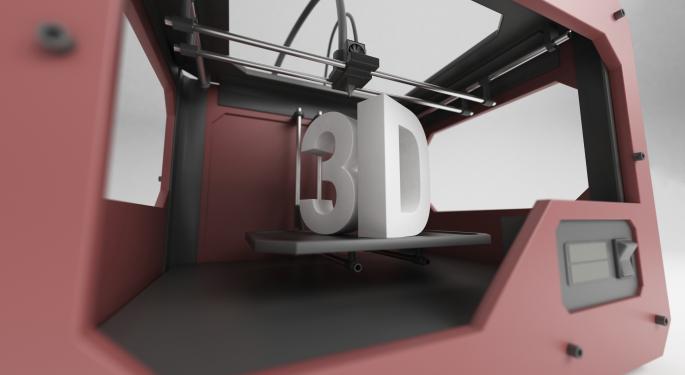 Although 3D printers haven't exactly reached mass-market status, that doesn't mean the technology hasn't caught the attention of some big names.
Here are five companies that have shown much more than passing interest in 3D.
General Electric
General Electric's (NYSE: GE) interest in 3D printing is quite specific. The company wants to use the process to produce 85,000 fuel nozzles for its new Leap jet engines. Unfortunately, printers currently available cannot produce the nozzles fast enough.
Related Link: 3D Printing Stocks In Play After Amazon Announces Store Launch
The advantage of 3D printed nozzles is that they can be made in one piece with the final product stronger and lighter than those made on a traditional assembly line.
The quest continues for GE, which acquired Morris Technologies, a leading supplier of additive manufacturing services in 2012.
GE has said it planned to produce up to 100,000 aircraft-related parts by 2020.
Ford
Ford (NYSE: F) started using 3D printing technology as early as the 1980s. The auto company has five 3D prototyping centers, each of which produces 20,000 parts each year.
Although industrial 3D printers are not yet available for mass production, the use of 3D in prototype and design, especially at companies like Ford, is becoming popular.
Computerworld reported that Ford technical specialist Harold Sears said the company has become so dependent on 3D printing that without it, Ford would not be able to meet its new vehicle build deadlines.
Nike
Sportswear company Nike (NYSE: NKE) designed and distributed a unique 3D-printed sports bag for selected players in the 2014 FIFA World Cup in Brazil.
The Nike Football Rebento duffle bag, which the company said was the world's first 3D-printed football bag, was given to Wayne Rooney, Cristiano Ronaldo and Neymar.
The move was mostly for publicity purposes and the bags were never intended to be mass-produced and released publicly. For now, Nike's use of 3D printing is more related to creating prototypes than mass production.
Hershey
Hershey (NYSE: HSY) and 3D Systems (NYSE: DDD) partnered earlier this year to develop a printer for chocolate and non-chocolate edible products.
In the press release announcing the venture, Hershey Vice President and Chief Research and Development Officer William Papa said, "Whether it's creating a whole new form of candy or developing a new way to produce it, we embrace new technologies such as 3D printing as a way to keep moving our timeless confectionery treats into the future."
Related Link: 3D Printing Enters The Retail Space At Home Depot
Wal-Mart
In May, Wal-Mart (NYSE: WMT) CEO Doug McMillon indicated the company might eventually install 3D printers in stores and would even consider acquiring a 3D maker in the future.
At the 2014 Code Conference McMillon said, "Three-D printing is interesting to me. We can use 3-D printing over time for replacement parts."
Wal-Mart's proposed tactic could solve a problem for the retailer. Consumer 3D printers could eventually be used to print replacements parts for a variety of products, making trips to the local Wal-Mart store less frequent.
Installing printers for customer use or even making and selling them would put the mega-retailer in the 3D driver's seat.
At the time of this writing, Jim Probasco had no position in any mentioned securities.
View Comments and Join the Discussion!
Posted-In: 3D 3D Systems Cristiano Ronaldo Doug McMillon FIFA World CupTopics Tech General Best of Benzinga