Goldman Sachs Downgrades US Stocks To Neutral, Sees Fed Increasing Rates In H1 2015
After months and months of waiting for an expansion, Goldman Sachs (NYSE: GS) downgraded US stocks on Friday to Neutral for the next three months. The downgrade is driven by the expectation that rates will increase and cause equity returns to dampen. Goldman reversed their economic outlook based on the GLI metric in Q1 2014 and until then had seen US economic expansion as "still stuck".
The focus point will be the FED's so called "dashboard" which analyzes wage growth, broader measures of slack, payroll employment growth, and measures from the Job Openings and Labor Turnover (JOLTS) survey.
A note released on Friday by Jan Hatzius highlighted expectations that the FED will increase rates in Q1 or Q2 of 2015 (emphasis Benzinga):
"Currently, however, the dashboard is considerably more depressed than the U3 gap, suggesting that how Fed officials lean between U3 and the dashboard will be a key issue for monetary policy over the next year. This point is highlighted by Boston Fed President Eric Rosengren's April comment that he supports "keeping interest rates at their very low level until we are within one year of reaching full employment," which he defined as a U3 rate of 5.25%. Since then, U3 has fallen by six-tenths, and under our forecast that one-year-away marker will be reached by Q1 or Q2 of 2015".
The FED estimate of U-3 5.35% as the full rate of unemployment will be used to gauge when the FED should increase rates. That threshold is projected to be reached in Q1 or Q2 of 2015. Incorporating that threshold into a relative analysis of the actual unemployment rate over 1992-2007 period provides a "reasonable full-employment benchmark" for other indicators. The image below shows payroll employment growth being the most "encouraging" indicator.
According to Bloomberg Brief, progress and managing slack remains uneven more than half way through the FED QE Taper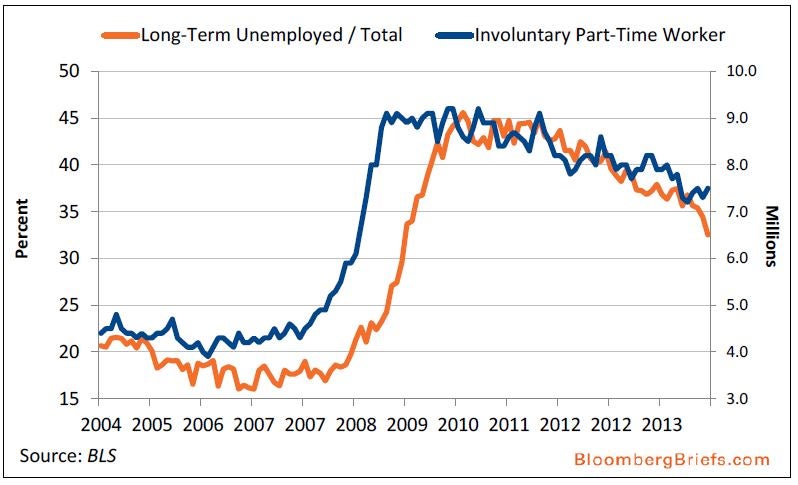 The resiliency of the recovery is under pressure as we close in the FED wrap-up of QE and the expectation of a Fed Funds Rate hike. Blind permabulls ought beware that for the next five months one of the worlds largest investment banks changed its view and looked for expansion only to reverse itself and downgrade equities under the premise that global acceleration in economic growth is "largely behind us".
The question now is, how much longer will hubris blind a majority of participants?
Posted-In: News Downgrades Events Top Stories Economics Federal Reserve Hot Markets
View Comments and Join the Discussion!