Comic-Con 2014 Exclusive: Alan Scott, Mastermind Behind 3D Printed Mega Creature 'Bodock'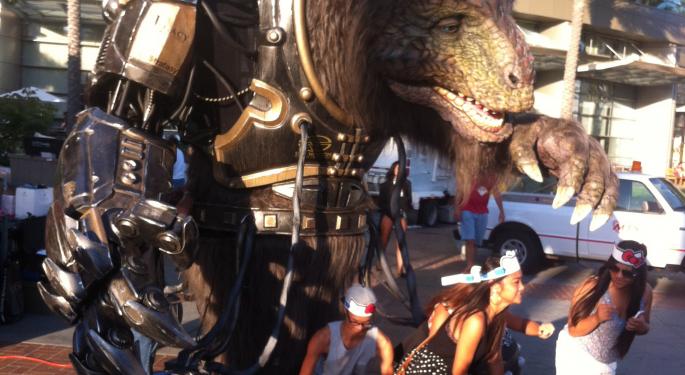 Sunlight is bouncing off of the bell of Comic-Con International's San Diego ball as the unusually comely sci-fi/steampunk creature Bodock continues to capture the imagination of convention guests and community members alike.
As two parents photograph their daughter with Bodock, whose dragon head, furry body, robotic arm and human eyes lend itself to a creative, yet oddly familiar scene adding even more wonder and magic to the mood on the streets.
"It was actually my design … We wanted to showcase some of the other work that we do. We do a lot of character work, so we wanted to something organic, but since we had the partner of Stratasys, it lent itself to some hard surface stuff. So we had to figure out a character that was both organic, larger than what we had last year and that would feature the 3D printing," said Alan Scott, one of the owners of the animatronic makeup effects company Legacy Effects.
Legacy Effects, along with The Stan Winston School of Character Arts, Wired magazine, and Stratasys (NASDAQ: SSYS), a global leader in 3D printing, came together to bring Bodock to life. Scott sat down with Benzinga at Bodock's showing site outside of the San Diego Convention Center to talk about their work on the partially 3D-printed mega creature.
The Ultimate Cosplay Character
This is not Scott's first time to the rodeo. Last year, the Legacy Effects team brought a giant robot to the famous convention that celebrates popular arts and culture. That cosplay character was nine-and-a-half feet tall.
"We had a lot of fun being the ultimate cosplay character. So when we decided we were going to come back, we wanted to be bigger than before. So we engaged with our partners and those companies and designed this character," Scott said.
"We had a whole team of people designing, and my concept for this was basically like King Kong ... I had to try and figure out a way to make this mobile. It walks around, and so my inspiration is King Kong when he gets taken to New York. So it's kind of like this guy was taken to Comic-Con, and he's restrained. He has this big weight belt on, and he's held down by these balls and chains -- these energy balls."
He also noted Ludo from the Labyrinth and the monsters from Where the Wild Things Are as influences for Bodock.
Stratasys provided all of the 3D-printed parts, which includes the creature's armor.
"The right hand, which is all a robotic arm, that's all 3D-printed parts; FDM parts straight off of the bed. We glued them together, sanded them a little bit, put some texture on them and painted them," Scott said.
Related: 5 Companies That Just Might Object To 3D Printed Food
4,000 Hours Of Printing
While the inner structure is a steel frame, the armor and all of the cosmetics of the body were made using 3D printers, making roughly one-third of Bodock's 2,000-pound-plus, 14-foot-tall and almost 10-foot-wide body assembled by Stratasys' 3D printing process.
"It pretty much shut [Stratasys] down cause it was about three weeks of solid printing. Over 4,000 hours to print all of those parts, and it took us about three weeks to build everything. We started about five weeks ago," Scott said.
Legacy Effects recently did the character design and makeup for Beast and Mystique in X-Men: Days of Future Past, special effects for Godzilla, work on Earth to Echo, and contributions to Zach Braff's Wish I Was Here, in addition to wrapping up on Jurassic World and Terminator: Genesis.
"In the long run, hopefully we'll be involved in Avatar [for the sequels]," Scott said.
For more on the creation of Bodock, check out Wired's documentary series, How to Make a Giant Creature.
Jason Cunningham had no position with the mentioned entities, with the exception of Benzinga, while writing this article. Visit Jason on Twitter at @JasonCunningham and @Benzinga.
Posted-In: Alan Scott Bodock Comic ConTravel Events Top Stories Tech General Best of Benzinga
View Comments and Join the Discussion!