Advanced Drainage Systems Looks To Overcome Uneven Financials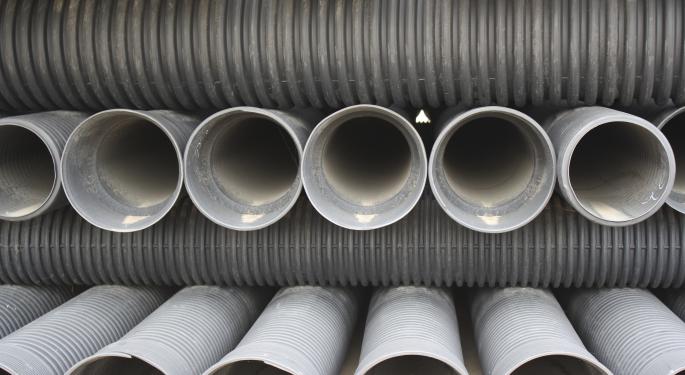 Advanced Drainage Systems (NYSE: WMS) is the second largest IPO this week, with 14.5 million shares expected to price between $17 and $19 through Barclays and Deutsche Bank. This would raise $275 million in proceeds.
Brief Overview
The company's business focuses on manufacturing corrugated plastic pipes used in construction and infrastructure projects. Its pipes provide higher quality and more affordable water and drainage solutions compared to traditional alternatives.
With 48 manufacturing facilities and 19 distribution centers located throughout the United States, the company believes it's structured to serve the needs of customers anywhere within its market. The term "market" is defined by prospectus as a 200-mile radius encompassing the 100 largest metropolitan areas by population.
Related Link: How Did Investors Beat The Market On Friday?
Major customers include national distributors and retailers. Distributor relationships include Ferguson, HD Supply and WinWholesale. Major retailers include Home Depot, Lowe's, Ace Hardware, Menards and Do it Best.
The Future
The company's growth strategy includes increasing sales, expanding product offerings and geographic growth. According to a recent filing, "Outside of the United States, we believe thermoplastic corrugated pipe represents a small part of the overall market."
The company has experienced some financial struggles in recent years. For the 2012 fiscal year ending March 31, 2013, the company realized net income of $30.1 million. For fiscal year 2014, the company realized a net loss of $3.4 million.
During that same time period, sales remained relatively flat and gross profit increased, yet the company's net income declined to the point of losing money. For 2013, the company's net income was $19.5 million. Selling, general and administration expenses rose $16.4 million in 2014, accounting for 70 percent of $23 million bottom-line decline.
Proceeds will be used to repay at least $82.9 million in outstanding debt.
Look for Advanced Drainage Systems to open for trading this Friday, July 25.
Disclosure: The author holds no positions in the mentioned securities at the time of this writing.
Posted-In: Advanced Drainage SystemsIPOs Best of Benzinga
View Comments and Join the Discussion!