Benzinga's M&A Chatter for Tuesday July 22, 2014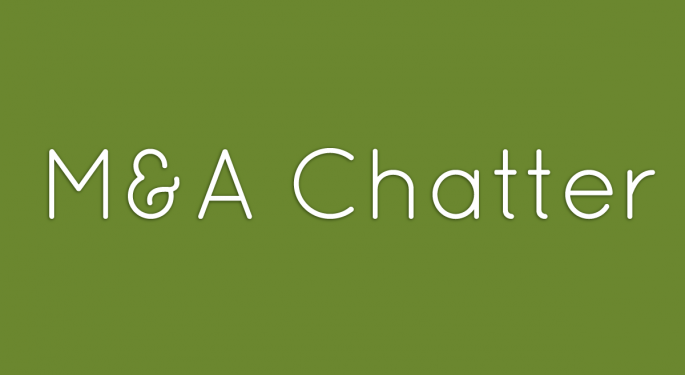 The following are the M&A deals, rumors and chatter circulating on Wall Street for Tuesday July 22, 2014:
CIT Group to Acquire OneWest Bank for $3.4B in Cash, Stock
The Deal:
CIT Group (NYSE: CIT) announced Tuesday, that it has entered into a definitive agreement and plan of merger with the parent company of privately-held OneWest Bank for $3.4 billion in cash and stock. Under the terms of the agreement, Shareholders of OneWest's parent company, IMB Holdco, will receive $2 billion in cash and 31.3 million shares of CIT Group common stock.
The deal has been approved by both company's Boards of Directors.
CIT Group closed Tuesday at $48.71, a gain of almost 11%.
LinkedIn Announces Purchase of Bizo, Valued at $175M
The Deal:
LinkedIn (NYSE: LNKD) announced Tuesday, that it has agreed to acquire Bizo, in a deal valued at approximately $175 million, cosnisiting of approximately 10 percent stock and approximately 90 percent cash. The deal is expected to close Q3 of 2014.
LinkedIn closed Tuesday at $165.50, a gain of 2%.
Report Respsol May Explore Talisman Energy Bid
The Rumor:
Shares of Talisman Energy (NYSE: TLM) spiked higher after-hours Tuesday, on a report from Bloomberg that Spain's Repsol (OTC: REPYY) may explore a bid for the Canadian oil and gas company. Repsol is reportedly looking for a place to put its cash, following the loss of its stake in YPF (NYSE: YPF), according to sources.
Talisman shares closed Tuesday at $9.85, and gained 11% after-hours.
Report PetSmart Hires JPMorgan to Explore Potential Deal
The Rumor:
PetSmart (NASDAQ: PETM) has reportedly hired JPMorgan Chase to consider strategic alternatives, including a potential sale, according to a report Tuesday from Reuters. Two of PetSmart's largest shareholders, Jana Partners and Longview Asset Management, with a combined 20% stake, have urged PetSmart to consider a sale. Dow Jones reported on July 17 that PetSmart was interviewing investment banks.
PetSmart closed Tuesday at $69.34, a gain of $.18.
View Comments and Join the Discussion!