Are Fiat And Volkswagen Actually Talking Merger?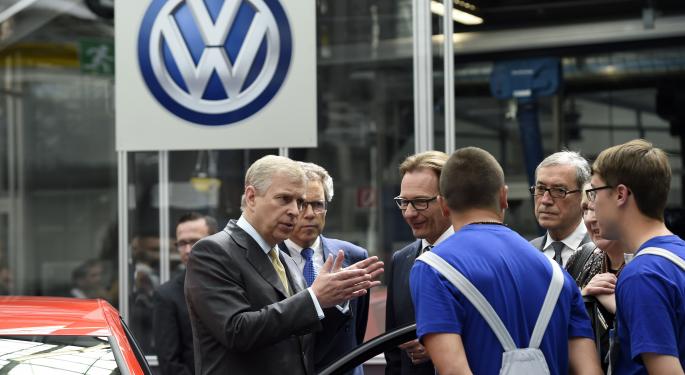 There is much speculation in the auto sector this week, just days after a German magazine reported talks were underway for a possible merger between Fiat (OTC: FIATY) and Volkswagen (OTC: VLKAY) -– a move that, if consummated, would create the world's largest automotive company.
"The Volkswagen group is sounding out a takeover or partial takeover of rival Fiat Chrysler," Manager Magazin said last Thursday, according to a translation of the article by Agence France-Presse. "Various talks have already been held between VW's key shareholder Ferdinand Piech, and the Elkann and Agnelli families as main shareholders of Fiat."
The Agnelli family, according to the report, would then focus almost entirely on Fiat's Ferrari sports car unit. The Chrylser Group, which finalized its merger with Fiat earlier this year, would assist VW in its U.S. operations.
Related Link: Google Brings Ex-Ford CEO Mulally On To Its Board
Helping VW Conquer The 'Hitherto Unconquerable'
"A Volkswagen Group that includes Fiat could begin to work against overcapacity with the political benefit of not being an Italian company with intent on cutting Italian jobs," Nerad noted in an email to Benzinga.
"VW has already demonstrated its ability to manage formerly Italian companies," he added, referring to Lamborghini and Ducati, "so that part of the equation is easier to imagine than one might guess."
Nerad said acquiring Fiat, and therefore Chrysler, would also help Volkswagen's efforts to gain more market share in what he calls "the hitherto unconquerable U.S. market where VW struggles despite its strong position in other areas of the world."
Analysts Weigh In
While some European analysts deem the merger news to be "realistic," others remain skeptical.
"Volkswagen has an urge to become the number one global automaker, and an acquisition of that size would bring them to their target immediately," Juergen Pieper, an analyst with Bankhaus Metzler in Frankfurt, told Automotive News. "But real interest in Fiat as a whole is rather unrealistic and would entail many problems."
Jack Nerad, executive editorial director and senior analyst for Kelley Blue Book, called a potential Fiat-Volkswagen merger a "tantalizing possibility" that would take care of one of the biggest problems plaguing the European auto industry – too much production capacity.
Volkswagen Group consists of the following brands:
Audi
Bentley
Bugatti
Ducati
Lamborghini
Man
Porsche
Scania
Seat
Skoda
Volkswagen
Volkswagen Commercial
Fiat S.p.A. consists of the following brands:
Abarth
Alfa Romeo
Chrysler
Dodge
Ferrari
Fiat
Fiat Professional
Jeep
Lancia
Maserati
Ram Trucks
Posted-In: automotive automotive industryM&A Eurozone Rumors Travel Markets General Best of Benzinga
View Comments and Join the Discussion!