Novartis Joins Google To Develop Contacts For Diabetics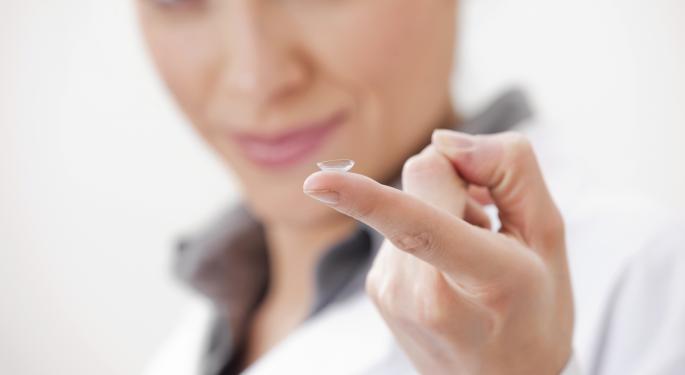 Development of devices and mobile applications in the health care sector has exploded of late. Now, according to The New York Times, drugmaker Novartis (NYSE: NVS) is collaborating with Google (NASDAQ: GOOG) (NASDAQ: GOOGL) to develop a smart contact lens that would constantly monitor the blood sugar level of wearers.
A Real Win For Diabetics
The advantage of constant, non-invasive blood sugar monitoring for diabetics, who otherwise have to stick themselves one or more times a day to draw a drop of blood for testing, could be huge.
Novartis' Alcon eye care unit struck the deal with Google. Financial terms were not disclosed.
Google already had a prototype that uses miniature sensors and a hair-like radio antenna to track glucose levels. Alcon said it would use that prototype as a jumping-off point to create new products.
Related Link: Google And Others Join Forces To 'Troll-Proof' Their Patents
Better Health At Lower Cost
By uploading data from the contacts to smartphones or other devices, both patients and doctors could utilize real-time monitoring to help maintain consistent blood sugar levels. Maintaining a steady glucose level is important to the health of people with diabetes.
Joe Jimenez, Novartis chief executive, told The Wall Street Journal that wearable health technology had the potential to lower the cost of managing chronic diseases like diabetes by getting patients more involved in managing their own health.
The Numbers Do Not Lie
"This will be a very important growth area in the future," Jimenez said, adding that smart lens technology could become a "large revenue stream" for Novartis.
The American Diabetes Association said in 2012, 29.1 million Americans were diabetic. That represents 9.3 percent of the entire country.
Other Uses
According to Jimenez, the diabetic smart lenses could also be used to correct vision similar to the way autofocus works on cameras. The lens could help the eyes focus on near objects, then readjust when the wearer looks at something in the distance.
Jimenez cautioned that the autofocus feature was likely years away from being ready for the consumer market.
Partnership A Smart Move
Rating Novartis a "BUY," analyst Olav Zilian of Helvea wrote in a research note, "Given Alcon's leading role in the market of contact lenses, it was a smart move on Google's side to team up with this Novartis division to innovate this market by marrying microchip-based technology with that of a contact lens as a carrier."
At the time of this writing, Jim Probasco had no position in any mentioned securities.
Posted-In: alcon American Diabetes Association Google NovartisHealth Care Tech Media General Best of Benzinga
View Comments and Join the Discussion!