3 Reasons Why Samsung Wants To Buy SmartThings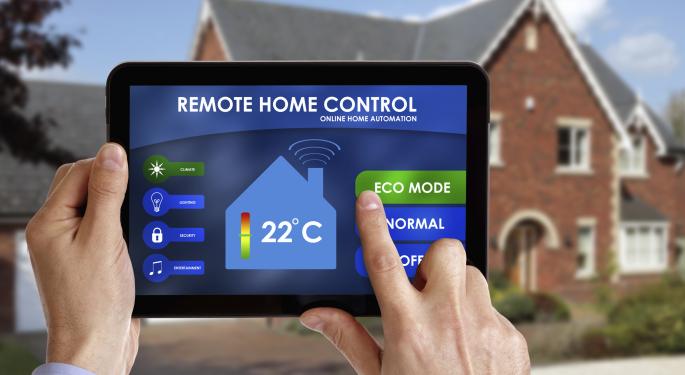 Samsung (OTC: SSNLF) is reportedly close to buying a company whose first project was funded by Kickstarter.
SmartThings, one of many smart home companies, released its first product in the fall of 2012. The company did so after launching a successful crowdfunding campaign. SmartThings asked for $250,000 and ultimately raised $1.2 million.
In December 2012 SmartThings announced that it had raised $3 million in a seed round led by First Round Capital. In November 2013, it raised an additional $12.5 million.
Related Link: Smart Toys Could Boost Free-To-Play Video Game Market
Oculus VR followed a similar path (crowdfunding first, investors second) before being acquired by Facebook for $2 billion.
According to TechCrunch, it seems that SmartThings is also on the verge of an acquisition -- albeit a much smaller one. The report claimed that Samsung will buy the company for as much as $200 million.
This is an apparent counterattack to Apple and Google's smart home initiatives. There are other reasons, however, why Samsung may want to acquire SmartThings.
1. Endless Praise
Google Ventures partner Kevin Rose is among those who gave early praise to SmartThings.
just saw the coolest kickstart project going live next week, can't wait to share it! more soon!

— Kevin Rose (@kevinrose) August 10, 2012
"It's a big idea, thought through deeply, and I think you'll be surprised with what you hear," Minnov8 blogger Steve Borsch wrote in a post about SmartThings' debut.
GigaOM's Stacey Higginbotham proclaimed that SmartThings was one of the companies "on the bleeding edge of how we'll interact with our devices going forward."
"The possibilities are endless," Mashable's Joann Pan wrote after the Kickstarter campaign launched.
With so much praise, it may come as a surprise that SmartThings hasn't already been acquired.
2. Real-World Hacking
From its inception, SmartThings has told developers that it wants them to "hack" the physical world.
"We want to free physical devices from the iron grip of the few who understand the ins and outs of firmware," SmartThings wrote on its Kickstarter page (linked above). "That's why SmartThings will be a completely open platform. Our core mission for SmartApps is to enable developers to unleash their creativity in the real world just as easily as they have been able to on the web and mobile devices."
Samsung might have been intrigued by this open-minded strategy.
3. Domestic Expansion
In 10 or 20 years, analysts may be writing reports about the importance of smart home expansion in emerging markets. For now, the United States could prove to be the most important market for smart home platforms and related devices/appliances.
By acquiring SmartThings, Samsung would gain control of one of the industry's most promising startups. The fact that it's local could prove to be an added bonus.
Disclosure: At the time of this writing, Louis Bedigian had no position in the equities mentioned in this report.
View Comments and Join the Discussion!
Posted-In: Apple blogger Steve Borsch Google Joann Pan Kevin RoseM&A Rumors Tech Best of Benzinga