Durant Sparkling Ice Deal Prompts Questions About The Value Of Celebrity Endorsements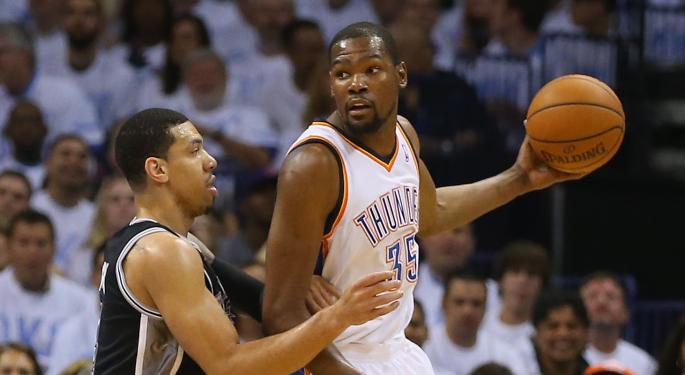 NBA star Kevin Durant's recent deal to become spokesman for the zero-calorie drink Sparkling Ice raises, once again, the question of just how much value celebrity endorsements bring to a brand.
One thing is clear, however. Although the terms of Durant's deal with Sparkling Ice's maker, Talking Rain, have not been disclosed, celebrity endorsements do not come cheap.
The Cost Of Celebrity
Among the most expensive ever, David Beckham was reportedly paid up to $150 million to endorse the Adidas line. Pepsi (NYSE: PEP) snagged Beyoncé for a third of that amount -- signing the superstar for a cool, refreshing $50 million. At the age of 19, Justin Bieber took $12.5 million to endorse luxury nail polish brand, OPI. Poor Brad Pitt, meanwhile, received just $7 million to become the first male endorser for Chanel No. 5.
Related: Private: Hushed Private Calling App Connects Celebrities to Fans One-on-One with Hushed Events
On The Plus Side
With the potential cost of snagging a celebrity endorsement so high, companies weigh the pros and cons carefully before wading into those waters.
On the plus side, according to marketing consulting firm, FrogDog, the right celebrity can help a company build brand equity. A prime example given was the partnership between Nike (NYSE: NKE) and basketball legend Michael Jordan.
Another positive is the role celebrity endorsements can play in ad recall. Numerous studies have demonstrated that when people associate a well-known public figure with a product, they tend to recall ads and commercials featuring that public figure more readily.
Association is another area in which celebrity can prove to be effective. FrogDog cited NASCAR driver, Tony Stewart's endorsement of ExxonMobil's (NYSE: XOM) Mobile 1 motor oil, which leads consumers to think Mobil 1 somehow helps Stewart win races.
On The Other Hand
Noting that if a product is strong in the first place it doesn't require a celebrity endorsement to be successful in the marketplace, Forbes said companies would often be better off investing the cost of those endorsements back into the company.
"The overall message to marketers is be careful," researcher Margaret C. Campbell told the magazine, "because all of us, celebrities or not, have positives and negatives to our personalities, and those negatives can easily transfer to a brand."
Overexposure can also be a problem; when a celebrity endorses so many products, the celebrity's credibility is called to question.
While a celebrity presence can draw attention to a product that same presence can overshadow the product. FrogDog, pointing to soccer superstar and popular endorser David Beckham, asked whether consumers remembered the product or the fact that Beckham's image was there.
Related: Twitter, As A Social Media Platform, Isn't Dying Just Yet
Has Sparkling Ice Arrived?
With potential positives like the opportunity to create new markets, spark sales and build reciprocity by partnering with a willing endorser like Durant, does all this mean Talking Rain and its popular drink brand are poised on the cusp of unlimited growth?
AdAge suggests social media involvement would be critical to future success. This is because social media's strength speaks to marketing's most powerful media: recommendation.
Eventually it would all boil down to public perception and trust of Sparkling Ice's new spokesman. Then, and only then, if Durant recommends the drink, will sales follow.
At the time of this writing, Jim Probasco had no position in any mentioned securities.
View Comments and Join the Discussion!
Posted-In: Adidas advertising Beyonce celebritiesNews Events Media General Best of Benzinga