6 Companies That Could Acquire AMC Networks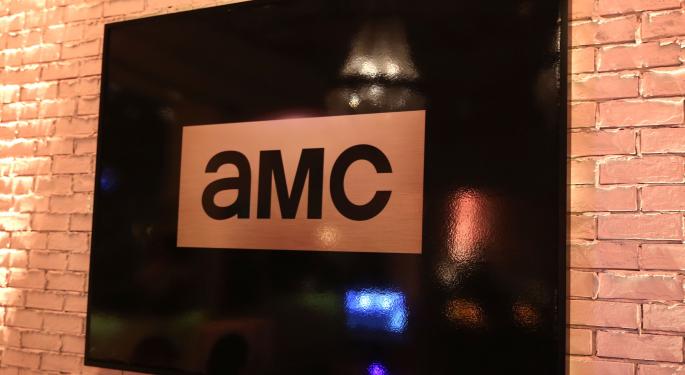 Twenty-First Century Fox (NASDAQ: FOXA) stunned investors Wednesday when it was revealed that the company offered to acquire Time Warner (NYSE: TWX) for $80 billion.
The deal (which valued Time Warner at $85 per share) was ultimately rejected, but that didn't stop investors from buying the stock. Time Warner's shares closed at $83.13, up 17.07 percent.
Peer companies were also on the move. AMC Networks (NASDAQ: AMCX), which has sparked M&A chatter for more than a year, rose 4.4 percent on Wednesday's news.
Related Link: AMC's 'Low Winter Sun' Captures The "Beauty And Grime" Of Detroit
AMC is famous for distributing some of the most popular shows on television, including The Walking Dead, Mad Men and Breaking Bad. The company, which has a market cap of roughly $4.5 billion, is one of the strongest players in the entertainment space. Any merger would be big news for both investors and TV producers.
Here is a look at which companies are most likely to take control of the network.
CBS
Albert Fried & Company analyst Rich Tullo and Sterne Agee analyst Vasily Karasyov told Benzinga that CBS (NYSE: CBS) is one of the top contenders for an AMC buyout. The network already dominates primetime with a number of hit dramas and comedies. CBS' pay-TV channel, Showtime, is second only to Time Warner's HBO.
By acquiring AMC, CBS would be in charge of one of the most important networks on cable.
Viacom
Viacom (NASDAQ: VIA) is famous for owning and operating a few key properties, including Paramount Pictures (which distributed the Transformers movies), MTV, Nickelodeon, BET and Comedy Central.
AMC would be a unique addition to this lineup. If nothing else, it could help Viacom gain some much-needed critical acclaim (the company isn't currently known for producing award-winning dramas). AMC could also bring new viewers to the Viacom family.
Related Link: 'The Killing' Could Have a Deadly Effect on AMC
Netflix
Even without a merger, Netflix (NASDAQ: NFLX) and AMC are already pretty close. AMC uses the streaming video giant to promote and popularize its series. The Walking Dead, for example, grew in popularity because new viewers had a legitimate (piracy-free) way to catch up in-between seasons.
Tullo has been a strong supporter of a Netflix-AMC merger for more than a year. He told Benzinga in 2013 why he thinks the two entities should unite.
"AMC has 96 million cable subscribers," said Tullo. "That provides the cash flow in order to develop original content programming. Then when they do develop new, original content programming, you get a show like The Walking Dead, which demands $350,000 to $600,000 in advertising for a 30-second spot."
Tullo said that this model works better for original content than Netflix's model "because you get the 10 million viewers monetized every week."
"We think there's a synergy there between a company like Netflix and AMC," he added.
Comcast
Comcast (NASDAQ: CMCSA) is another company that appeared on Karasyov's list of possible buyers.
This one could be difficult because Comcast already owns NBCUniversal. If Comcast attempted to buy AMC, it could look like the firm is trying to monopolize the pay-TV business.
Comcast could eliminate that perception by bringing AMC's shows to Hulu, a move that is unlikely to occur with AMC's current owners.
Disney
Disney (NYSE: DIS) loves a good property. From Star Wars and The Avengers to Frozen and a plethora of hit TV series, the company has done everything it can to maximize returns.
After acquiring Lucasfilm, Disney announced that it would make three Star Wars sequels and a number of spin-offs. There will be new Star Wars attractions at its theme parks and truckloads of merchandise for kids to buy.
AMC has not produced a single property that could rival Lucasfilm or Marvel. The same could be said for ABC, but that didn't stop Disney from acquiring that network.
Fox
Karasyov also believes that Fox may be interested in acquiring AMC.
From a programming perspective, a Fox-AMC union makes perfect sense. Both companies are known for producing some of the darkest dramas. By working together on all new shows, the results could be very impressive.
That said, investors might feel that AMC is a weak substitute for Time Warner. AMC has The Walking Dead, but Time Warner has Batman, Harry Potter and numerous others. How can AMC compete with that?
Disclosure: At the time of this writing, Louis Bedigian had no position in the equities mentioned in this report.
View Comments and Join the Discussion!
Posted-In: Albert Fried & Company AMC Batman Breaking Bad CBSM&A Rumors Tech Best of Benzinga