Homeward Bound: LeBron James Announces Return To Cleveland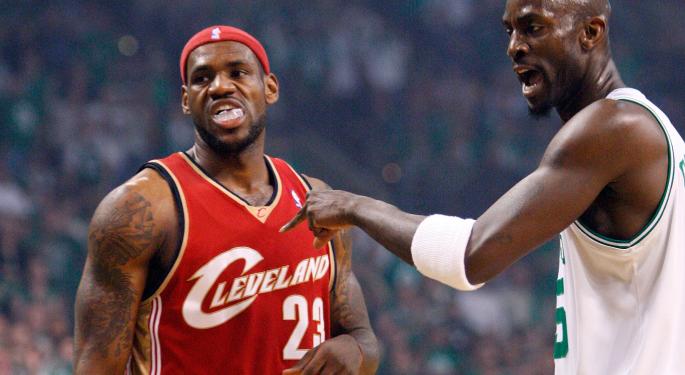 LeBron James left Cleveland four years ago. His exit was followed by a vitriolic letter from the team's owner.
The Akron, Ohio native has marked his return to the Cavaliers with a letter of his own. As told to Sports Illustrated's Lee Jenkins, James announced his intention to return to the franchise where he played the first seven years of his career.
"But this is not about the roster or the organization," wrote James, who will be in Brazil this weekend for the World Cup final. "I feel my calling here goes above basketball. I have a responsibility to lead, in more ways than one, and I take that very seriously. My presence can make a difference in Miami, but I think it can mean more where I'm from. I want kids in Northeast Ohio...to realize that there's no better place to grow up."
Related Link: Adidas Gaining The Edge, As Nike Leaves Manchester United Behind
Welcome Home @kingjames. I am excited for the fans and people of Cleveland and Ohio. No fans and people deserve a winner more than them.....

— Dan Gilbert (@cavsdan) July 11, 2014
Financial Impact
Contract details have yet to be confirmed. The maximum amount the Cavaliers can offer James next season is roughly $20.7 million. The team recently cut about $10 million off its payroll through trades.
James played the last four seasons for the Miami Heat. The team won two NBA championships in four Finals appearances. James won two Most Valuable Player awards.
James opted out of his contract with Miami in June. He used his early termination option, which forfeited the remainder of his guaranteed salary on the six-year, $110 million contract he signed in 2010.
James' letter mentioned several members of the Cavaliers, but noticeably left off was this year's top overall draft pick, Andrew Wiggins. There has been speculation that free agent forward Kevin Love could be another piece added to the franchise.
The Cavaliers franchise was recently valued at $515 million, according to Forbes. That ranked 19 out of 30 NBA franchises. Forbes said Friday that valuation has already gone up by $100 million based on James' return.
When James left after the 2009-2010, the impact on the franchise showed. In January 2011, the Cavaliers were valued at 26 percent less than they were in James' final season.
Related Link: Lebron James' Site Crashes Amid Free Agency Decision
I am shocked & disappointed in today's news. However I will never forget what Lebron brought us for 4 years. Thanks for memories @KingJames

— Micky Arison (@MickyArison) July 11, 2014
The Cavaliers also had the league's top local television ratings that season. Gate receipts totaled $53 million in December 2009; that number dropped to $30 million in 2014.
Ticket prices are sure to see a boost as well. Forbes reported this week that for the 2009-2010 season, the average Cavaliers average ticket price was $195, "according to data from TiqIQ. The next year, prices plummeted to an average price of $51."
Cavaliers' phone lines were busy Friday afternoon. ESPN's Darren Rovell tweeted that a league source told him the team sold $1 million in season tickets on Wednesday on LeBron speculation alone.
Posted-In: Cleveland Cavaliers Dan Gilbert LeBron James Miamia Heat NBANews Best of Benzinga
View Comments and Join the Discussion!