Best Buy Offers New 'Destiny' Beta With In-Store Demo On July 19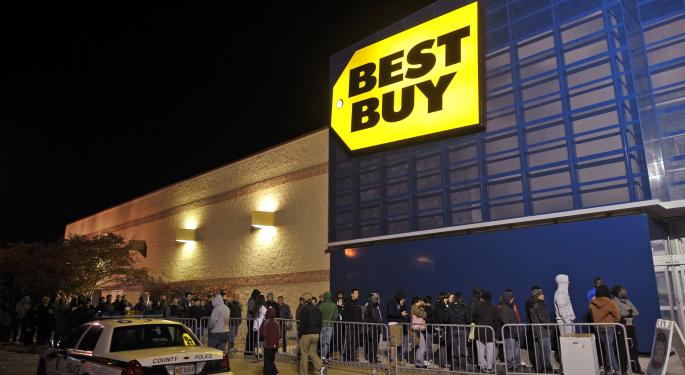 Best Buy (NYSE: BBY) customers will be able to play Destiny at select stores on Saturday, July 19.
The three-hour event (which is scheduled to run from 6:00 p.m. to 9:00 p.m.) will be held at 71 Best Buy stores nationwide. All participating locations can be found at BestBuy.com/GamingEvents.
Consumers can also pre-order the game on Best Buy's website to gain access to the online beta, which starts on Thursday, July 17.
"Our strategy is to position Best Buy as THE destination for all things gaming, and we are giving gamers more reasons to visit Best Buy," Chris Koller, Best Buy's Vice President of Gaming, told Benzinga. "These unique events allow us to provide early access to consumers for the latest games and technology."
In June, Best Buy teamed up with Nintendo to promote the upcoming Super Smash Bros. games for Wii U and the Nintendo 3DS.
The event coincided with the 2014 Electronic Entertainment Expo and attracted more than 30,000 customers. This was the second time that the two companies worked together on an E3-related event.
In 2013, Nintendo brought four new demos -- Super Mario 3D World, Donkey Kong Country: Tropical Freeze, Mario Kart 8 and The Legend of Zelda: The Wind Waker HD -- to dozens of Best Buy locations.
Related Link: Will Destiny Be The Biggest Game Launch In History?
Attracting The Masses
Exclusive demo events could be an important part of Best Buy's future. In addition to its brick-and-mortar competitors -- GameStop, Wal-Mart and Target, among others -- Best Buy also faces competition from digital distribution.
Piracy and online music sales have forced all retailers to scale back their CD selection. The same thing is slowly happening to movies. Many fear that it will one day impact the video game industry as well. Sony, which acquired a streaming game company for $380 million, initially thought about removing the disc drive from PlayStation 4.
That idea was rejected more than a year before PlayStation 4, the company's latest console, arrived at retail. While consumers may accept the idea of downloading music and movies, they overwhelmingly prefer to own physical copies of video games.
This desire has ensured that retailers like Best Buy and GameStop will get to continue selling disc-based video games. Thus, the heated competition will continue among retailers. GameStop may be the biggest seller of new and used games, but if Best Buy becomes the home of major gaming events, it could gain the upper hand.
Disclosure: At the time of this writing, Louis Bedigian had no position in the equities mentioned in this report.
Posted-In: Activision best buy Chris Koller commentsNews Rumors Events Tech Best of Benzinga
View Comments and Join the Discussion!