Can Google Glass Read Your Mind?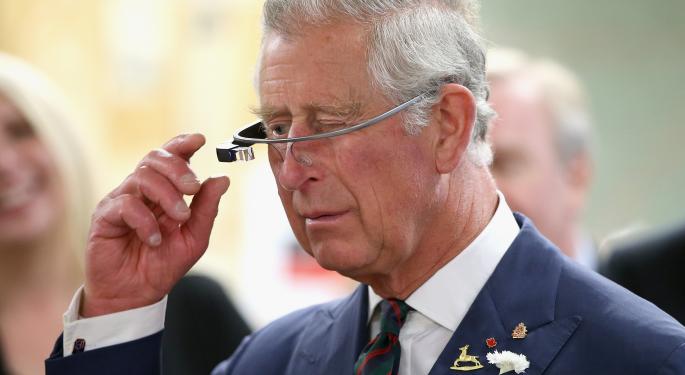 As if Google (NASDAQ: GOOG) (NASDAQ: GOOGL) Glass didn't have enough to deal with on the "privacy concerns" front, now a team in London is about to launch a new app that could allow users to control the device with their thoughts, according to TechCrunch.
The company, This Place, created an app called MindRDR that links Glass with the Neurosky EEG biosensor. This creates a communication loop that allows for what TechCrunch described as a "primitive vision of how your mind can control Glass."
Related Link: Why Google Wants To Plant a Microchip In Your Head
The biosensor picks up brainwaves based on the user's ability to focus. The software translates the brainwaves into a meter reading that is superimposed on the camera view in Glass. The degree to which the user focuses determines the action taken by Glass.
For example, focusing moderately will cause the Glass camera to take a photograph. Focusing even more will post the picture to Twitter.
This Place posted a video demonstration of Glass with MindRDR on Vimeo:
MindRDR from This Place Ltd on Vimeo.
Although the setup is clumsy, the device could be used, TechCrunch said, to train people to concentrate better – a potential useful medical application for those with brain injuries.
With refinement, such a device could also allow people with limited mobility to operate Glass with all its various functions. According to TechCrunchsuch a notion has caught the interest of no less than famed physicist, Stephen Hawking, who has a progressive motor neuron disease and is paralyzed.
This Place said it would continue to develop the concept but has also put the code up on GitHub so others can use it and expand MindRDR's capabilities as well.
Related Link: 3 Ways Google Glass Could Change Journalism
Interest on the part of This Place came about partly because of what some people consider shortcomings of Glass – namely that users have to speak to the device ("OK, Glass") or slide their finger or tap in order to activate various functions.
This Place creative director Chloe Kirton told TechCrunch, "We saw the problems. Speaking out loud to your device is unnatural and could be downright awkward in some cases. And the finger sliding and tapping is not great, either. After a while your arm gets tired. You get Glass elbow. We wanted to think of something that was natural and accessible for everyone."
Of course, critics have maintained that Glass was intrusive enough, even with spoken commands and the visual cue of seeing a user slide their finger or tap the device. Controlling Glass with thoughts could be seen as even more of a privacy concern and in some cases, downright creepy.
At the time of this writing, Jim Probasco had no position in any mentioned securities.
Posted-In: GitHub Glass Google Stephen Hawking techcrunch twitterTech Media Best of Benzinga
View Comments and Join the Discussion!