Archer Daniels Midland Goes 'Wild' On Natural Flavors To The Tune Of $3.13 Billion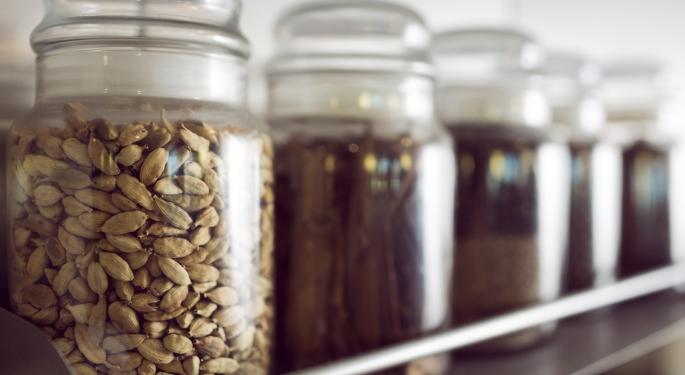 Archer Daniels Midland (NYSE: ADM) said Monday it would acquire privately held Swiss company Wild Flavors for $3.13 billion, the biggest acquisition yet for the agribusiness giant.
Wild Flavors, founded in 1931, produces natural-based flavors and "flavor systems" that give food products their distinct tastes.
Archer Daniels Midland Chief Executive Patricia Woertz told The Wall Street Journal Monday that Archer Daniels Midland planned to use the acquisition as part of its "ingredients" business, which it said would produce higher margin and higher growth than the company's mainstay grain business.
"The commodity business," Woertz noted, "has its ups and downs."
Related Link: Archer Daniels Raises Cost Savings Target to $400 million - Analyst Blog
Decatur, Illinois-based Archer Daniels Midland, which the Chicago Tribune said would soon operate out of the former United Airlines building in Chicago, has generated about $90 billion in annual revenue and was ranked among the world's top corn, soybeans, cocoa and rice dealers.
Grain trading, as Woertz said, can be tricky. Recently drought, transportation issues and reluctance on the part of farmers to sell grain at bargain basement prices have all cut into profits for companies like Archer Daniels Midland. According to The Wall Street Journal, U.S. corn futures alone have fallen more than 20 percent since April. This represents the lowest levels for agriculture's go-to grain since August 2010.
Wild Flavors, Archer Daniels Midland said, would add an established business to the mix and help generate profit that is more reliable. In a call to industry analysts reported by the Chicago Tribune, Woertz said, "We think this is a highly strategic and highly complementary to our existing business."
Woertz added that Wild Flavors had been an Archer Daniels Midland "target" for the company's food and wellness business.
That said, the price Archer Daniels Midland agreed to pay in the all-cash deal was about 23 times anticipated 2015 earnings. This would put pressure on Archer Daniels Midland to work hard to generate the $10 billion in revenue Archer Daniels Midland set as its goal over the next 10 years, according to JPMorgan Chase analysts reported by The Wall Street Journal.
J.P. Morgan analyst Ann Duignan wrote in a note to clients Monday that integrating the two businesses "will be critical as the price paid is steep."
Archer Daniels Midland shares were down slightly at $46.41, or 0.19 percent, Tuesday afternoon. The company's next earnings report was due before the market opened on August 5.
At the time of this writing, Jim Probasco had no position in any mentioned securities.
View Comments and Join the Discussion!
Posted-In: Ann Duignan archer daniels midland Chicago Tribune JPMorgan Chase & Co. United Airlines Wall Street JournalM&A Media Best of Benzinga