Benzinga's M&A Chatter for Monday July 7, 2014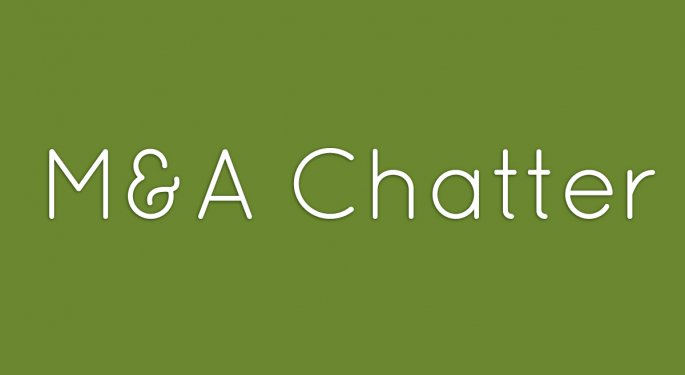 The following are the M&A deals, rumors and chatter circulating on Wall Street for Monday July 7, 2014:
ADM Acquires WILD Flavors for ~€2.3B
The Deal:
Archer Daniels Midland (NYSE: ADM) announced Monday, that it is acquiring WILD Flavors GmbH, in an all-cash transaction valued at approximately €2.3 billion enterprise value. The deal is expected to close by year end.
Archer Daniels Midland shares closed Monday at $46.50, a gain of 1.5%.
Warren Resources Acquires Marcellus Assets of Citrus Energy Corporation for $352.5M
The Deal:
Warren Resources (NASDAQ: WRES) announced Monday that it has an agreement to acquire essentially all of the Marcellus assets of Citrus Energy and two additional working interest owners for $352.5 million. Warren will issue $40 million in Warren common stock priced at $6.00 per share, with the remainder to be funded through fully committed debt financing.
The deal is expected to close in August 2014.
Warren Resources shares closed Monday at $6.30, a gain of 2.5%.
InvenSense to Acquire Movea, Trusted Positioning for $81M
The Deal:
InvenSense (NASDAQ: INVN) announced Monday, that it has agreed to acquire privately-held provider of software for ultra-low power location, activity tracking and context sensing, Movea, and also privately-held indoor/outdoor positioning software company, Trusted Positioning, for approximately $81 million. The deal includes $6 million in InvenSense share and the remainder in cash.
The deals are expected to close by the end of InvenSense's Q2.
InvenSense shares rose almost 6% Monday, to close at $23.97.
Hearing Renewed Chatter of Potential Publix Bid for Whole Foods
The Rumor:
Shares of Whole Foods (NYSE: WFM) rose sharply one hour after the open Monday, on renewed unconfirmed market chatter of a potential bid by privately held Publix. The price being reported is $58.00 per share.
A spokesperson for Publix declined comment on the rumor. A Whole Foods spokesperson was not available for comment. Similar chatter surfaced on June 5.
Whole Foods closed at $38.76 Monday, a loss of 1%.
View Comments and Join the Discussion!