What Do High School Grads Do Every Day?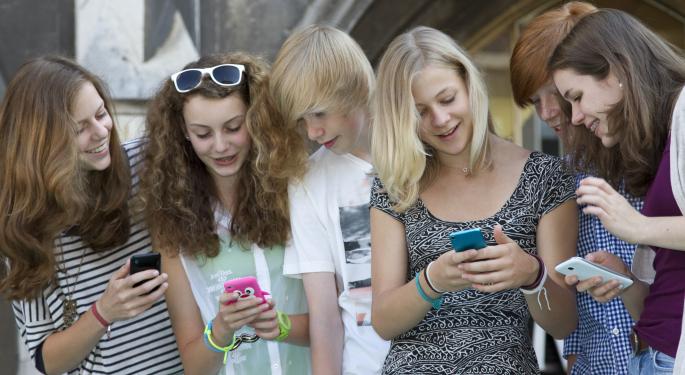 What 87 percent of high school graduates do every day is participate in their favorite social network.
That social network isn't Facebook (NASDAQ: FB), or Snapchat. It isn't even Google's (NASDAQ: GOOG) YouTube.
According to Niche, which conducted a survey of 7,000 members of the Class of 2014, what high school graduates do every day is text.
Texting, a social network? "Yes," said The Atlantic, calling texting "… the purest form of social network, so simply social that we scarcely consider it a network." That might change if, as The Atlantic suggested, advertisers and others figure out how to monetize texting in the same way they have been learning to do so with other forms of social media.
Related: Why Are Teens Abandoning Facebook for Messaging Apps?
The Niche survey indicated that texting among teens was three times more popular than making a phone call. Texting's 87 percent daily use statistic also trumps Facebook at 61 percent, YouTube at 55 percent and Instagram at 51 percent.
Blogger WattsJones compiled a list of 10 ways to monetize messaging apps. The list ran the gamut from the obvious – paid subscriptions and advertising. After that came selling (or sponsored) "stickers," branded or official accounts, merchandising, in-app purchasing and even a music stream option.
TruTower, noting that text messaging is more popular than ever, said Americans spend more than 23 hours per week online texting, emailing, messaging, and using social media and other forms of communication. About 60 percent takes place on mobile devices, which teens use to a great extent.
The average teen, TruTower said, shared content with over 400 friends. This is a stat marketers simply cannot afford to ignore.
In addition to tactics mentioned above, gaming via messaging apps could become a huge income generator. According to TruTower gaming, along with stickers and in-app purchasing were poised to become the three main monetization channels for messaging.
The downside, as with any attempt to produce income, is the degree to which users would tolerate interruptions or see the experience as one giant sales pitch. When that happens, consumers walk away, leaving advertisers and producers with nobody to whom they can market.
TruTower suggested an approach in which users were not directly charged, but presented with context-based advertising and product that would be seen as providing value to consumers.
At the time of this writing, Jim Probasco had no position in any mentioned securities.
Posted-In: Facebook Google Instagram SnapChatPsychology Topics Media General Best of Benzinga
View Comments and Join the Discussion!