Benzinga's Weekend M&A Chatter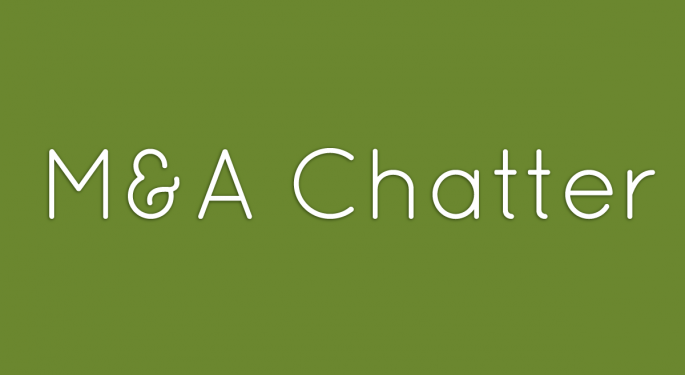 The following are the M&A deals, rumors and chatter circulating on Wall Street for Thursday July 3 through Sunday July 6, 2014:
JANA Partners Reports 9.9% Stake in PetSmart
The Stake:
Shares of PetSmart (NASDAQ: PETM) rose 12.5% Thursday, following a 13D filing from JANA Partners, disclosing a 9.9% stake. JANA said it acquired the shares because it believes they are undervalued and represent an attractive investment opportunity. JANA intends to have discussions with PetSmart's Board and management regarding a review of strategic alternatives including a potential sale.
PetSmart responded to the filing saying: "PetSmart welcomes open communications with its shareholders and values constructive input toward the goal of enhancing shareholder value. Our Board and management team are committed to creating value for all PetSmart shareholders, and we will continue to take actions to accomplish this goal and position the Company for growth and success."
PetSmart shares closed Thursday at $67.28, a gain of $7.48.
CNBC's David Faber Reporting Deal Between Reynolds, Lorillard Could be Announced Within Weeks/b>
The Rumor:
Shares of Lorillard (NYSE: LO) and Reynolds American (NYSE: RAIN) rose sharply early Thursday, on a report by CNBC's David Faber, that a merger of the two tobacco companies could be announced within weeks, according to sources. Reuters reported on May 21 that Reynolds was in talks to acquire Lorillard, while Bloomberg reported on May 22 that a deal could still be months away.
Lorillard shares rose 5% Thursday to close at $64.41, while Reynolds American gained more than 2% to close at $61.56.
SunEdison Acquires 50% Ownership Stake in Silver Ridge Power JV for $178.6M
The Deal:
SunEdison (NYSE: SUNE) announced Thursday, it has completed its acquisition of a 50% ownership stake in Silver Ridge Power from a AES subsidiary, for approximately $178.6 million in cash.The other 50% of the outstanding limited liability company interests of SRP remain held by an affiliate of Riverstone Holdings.
SunEdison shares fell 1% Thursday, to close at $22.66.
Lululemon Founder Reportedly Exploring PE Buyout
The Rumor:
Shares of Lululemon Athletica (NASDAQ: LULU) rose early Thursday, on a report from Dow Jones that the company's founder Dennis "Chip" Wilson, is exploring options, including a potential sale of the company to private equity. Leonard Green & Partners is one of the firms Wilson has reached out to, according to sources.
A report on June 22, indicated that Wilson had hired Goldman Sachs as an advisor.
Lululemon Athletica shares rose almost 3% Thursday, to close at $42.66.
View Comments and Join the Discussion!