Benzinga's M&A Chatter for Tuesday July 01, 2014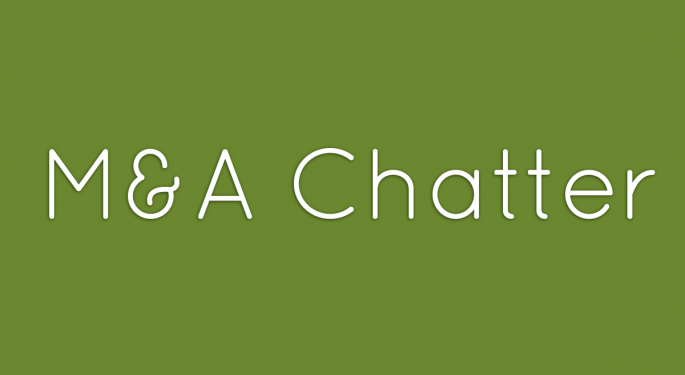 The following are the M&A deals, rumors and chatter circulating on Wall Street for Tuesday July 1, 2014:
Google Acquires Songza, No Terms Disclosed
The Deal:
Google (NASDAQ: GOOG) announced Tuesday that it has acquired streaming music service Songza. The deal was also announced on the Songza website.
Terms of the deal were not disclosed.
Google shares closed Tuesday at $582.67, a gain of more than 1%.
EZchip to Acquire Tilera for Up to $130M in Cash
The Deal:
EZchip Semiconductor (NASDAQ: EZCH) announced Tuesday, that it has agreed to acquire privately-held Tilera Corporation, for up to $130 million in cash; with $50 million payable at closing and up to $80 million in additional payments, based on attainment of certain future performance milestones. The deal is expected to close in Q3 of 2014.
EZchip closed Tuesday at $26.43, a gain of 2.5%.
Gaming Partners International Acquires GemGroup for $19.75M
The Deal:
Gaming Partners International (NASDAQ: GPIC) announced Tuesday, that it has completed the acquisition of substantially all of the assets of gaming product company GemGroup, for $19.75 million.
Gaming Partners International closed Tuesday at $8.11, a los of $0.03.
Report Goldman May be Looking at Schwab, E*TRADE Acquisitions
The Rumor:
Shares of E*TRADE Financial (NASDAQ: ETFC) and Charles Schwab (NASDAQ: SCHW) popped Tuesday, following a tweet from Fox Business News' Charlie Gasparino, that Goldman Sachs (NYSE: GS) may have an interest in acquiring one of the discount brokers.
E*TRADE Financial closed Tuesday at $21.66, a gain of almost 2%, while Schwab gained 1.5%, to close at $27.32.
View Comments and Join the Discussion!