Housing Update: Pending Home Sales Surge In May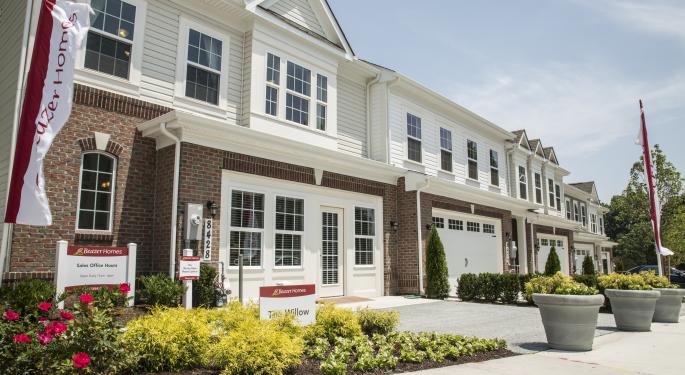 The National Association of Realtors reports that Pending Home Sales in May rose by 6.1 percent.
May's jump in home sales was the largest monthly increase since April 2010, was well above expectations for an increase of 1.1 percent, and above last month's rise of 0.4 percent.
Lawrence Yun, NAR chief economist, expects improving home sales in the second half of the year. "Sales should exceed an annual pace of five million homes in some of the upcoming months behind favorable mortgage rates, more inventory and improved job creation," he said. "However, second-half sales growth won't be enough to compensate for the sluggish first quarter and will likely fall below last year's total."
Despite the positive gains in signed contracts last month, Yun cautions that affordability and access to credit is still an area of concern for first-time home buyers, who accounted for only 27 percent of existing-home sales in May and typically carry student loan debt and lower credit scores.
"The flourishing stock market the last few years has propelled sales in the higher price brackets, while sales for homes under $250,000 are 10 percent behind last year's pace.
Meanwhile, apartment rents are expected to rise eight percent cumulatively over the next two years because of tight availability," said Yun. "Solid income growth and a slight easing in underwriting standards are needed to encourage first-time buyer participation, especially as renting becomes less affordable."
Prior readings for reference:
April: +0.4 percent
March: +3.4 percent
February: -0.8 percent
January 2014: -0.2 percent
December: -8.7 percent
November: +0.2 percent
October: -1.2 percent
September: -5.6 percent
August: -1.6 percent
July: -1.4 percent
June: -0.4 percent
May: +6.7 percent
April: +0.3 percent
March: +1.5 percent
February: -0.4 percent
January 2013: +4.5 percent
December: +4.3 percent
November: +1.7 percent
October: +5.0 percent
September: +0.3 percent
August: -2.6 percent
July: +2.4 percent
June: -1.4 percent
May: +5.4 percent
April: -5.5 percent
March: +3.8 percent
February: +0.4 percent
January 2012: +2.0 percent
The NAR's Pending Home Sales Index (PHSI) is designed to be a leading indicator of housing activity. The index measures housing contract activity. It is based on signed real estate contracts for existing single-family homes, condos and co-ops.
A signed contract is not counted as a sale until the transaction closes. Modeling for the PHSI looks at the monthly relationship between existing-home sale contracts and transaction closings over the last four years.
Tags: Lawrence Yun National Association of Realtors
Posted in: News Econ #s Economics Best of Benzinga