4 Ways Google's Android TV Can Take Over The Living Room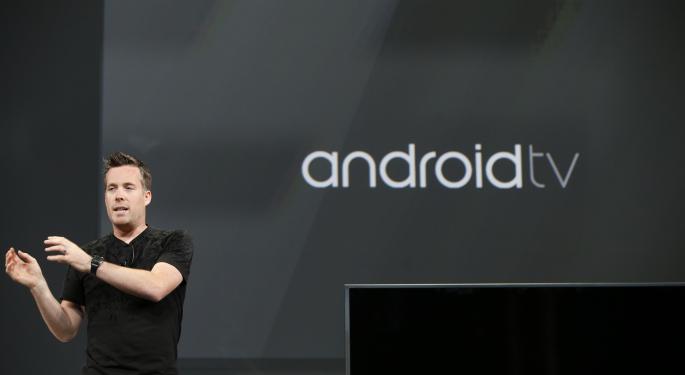 Google (NASDAQ: GOOG) has made it clear it wants to be involved in every aspect of consumers' lives. From PCs, tablets, smartphones and even smart homes, the company has already made its software and Android OS a major force.
However, one area the company has yet to conquer fully is the living room. Aside from its $35 Chromecast dongle that attaches to the television and streams content from YouTube and other sources, the main entertainment center for most homes has seen very little in the way of Google encroachment.
That may be about to change. At Google's I/O 2014 keynote Wednesday, the company demonstrated its new Android TV.
Cable & Apps
The platform combines live TV via cable (or an over-the-air antenna) with a plethora of Android apps, Google Play, and more in order to provide consumers with maximum Google-ized interaction with their television.
Related Link: Google To Add Satellites To Its Global Outreach Efforts
Main features demonstrated included fast access to content and the ability to return quickly to the main screen via an Android "home" button. Apps added from the Play Store as well as other installed apps appeared to be easily accessible.
'Fluid' Gaming
The Verge found a separate games area with control provided by a stand-alone game controller or by Android phone to be "fast and fluid."
Voice Command
Noting that Google's search function would play a big role in Android TV, The Verge reported that the onstage demonstration at I/O 2014 indicated complex queries such as "show me all Oscar-nominated movies from 2002" would be possible. This feature would be important in order for Google to compete with Amazon's new Fire TV.
Smoothing Over Competition
Smoothing the transition from live television to streamed content, along with interacting with other entertainment-oriented devices, would be a major component of Android TV. That, however, would not be enough. The crowded field includes not only Amazon, but also Apple and Roku to name a couple.
Not yet clear was the full extent to which previous Google partners would adopt or become involved with Android TV. According to Quartz, so far Sony, LG, Asus, and Intel were on board in a variety of roles including televisions, computer chips and distribution agreements.
Notably missing from the lineup, however, was longtime Google Android partner, Samsung.
At the time of this writing, Jim Probasco had no position in any mentioned securities.
Posted-In: Amazon Android Android TV Apple asus Chromecast Fire TVTech Best of Benzinga
View Comments and Join the Discussion!