AOL Founder Steve Case Awards $100K To Detroit Startup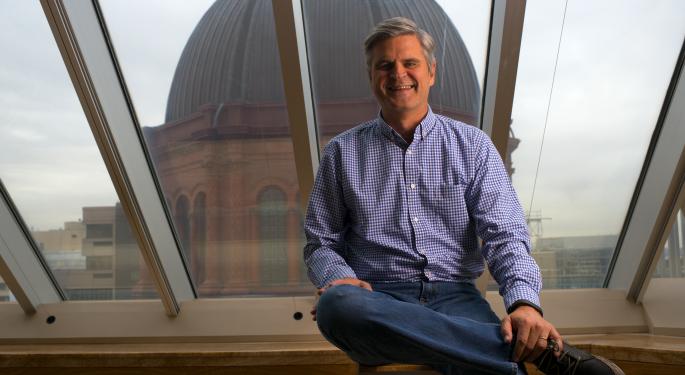 As part of of the "Rise of the Rest" road tour, Detroit-based Stik.com received a $100,000 check from former AOL (NYSE: AOL) CEO Steve Case.
"Rise of the Rest" is a four-day, four-city bus tour put on by UP Global, Revolution and Google for Entrepreneurs. It features pitch competitions by local startups in each of the four emerging startup communities -- Detroit, Pittsburgh, Cincinnati and Nashville.
The winner of each pitch competition (in Detroit's case, Stik.com) receives $100,000 from Case's investment firm, Revolution, and an all-expense paid trip to Washington, D.C. for another chance to pitch and meet local investors.
Related: 5 Things Every Detroit Entrepreneur Should Know
Stik.com uses peoples' existing social networks to share client reviews and get new referrals. The startup says that it has helped more than 200,000 professionals and local businesses across 20 different industries.
Shifting focus
The purpose of the tour is to shine a spotlight on entrepreneurs in the country that aren't in the typical startup hubs.
"We think there's too much attention focused on a few places like Silicon Valley or New York City," Case said at the tour's "fireside chat" event. "But the story that's not as well told is what's happening in places like Detroit, and it's really exciting to be here."
Case said that a short 250 years ago, America was just a startup. He firmly believes that the reason that the United States has been able to produce a leading economy in less than three centuries is because of the work of entrepreneurs and innovators, he said.
Related Link: How One Startup Quadrupled Its Size In 9 Months
"If we're going to continue to be this great country, we need to continue to be the most innovative entrepreneurial nation," Case said. "And we can only do that if we're focusing on where the new opportunities are and recognizing that the whole country can play a role in doing that."
The Motor City rises
Case told Benzinga that there was no better place to start off the tour than Detroit.
"It's facing significant challenges increasingly, but showing signs of momentum," he said.
Google for Entrepreneurs director Mary Grove told Benzinga that she personally did not need any convincing about Detroit.
"We firmly believe that what's happening here is really important," she said.
This was Grove's first visit to Detroit, and she said it was "beyond expectations." She said Detroit has all the ingredients that make a successful community.
"You've got the talent pipeline, the great universities and mentors like (Quicken Loans CEO) Dan Gilbert, who have succeeded and want to give back and pay it forward," she said.
View Comments and Join the Discussion!
Posted-In: AOL commentsNews Entrepreneurship Movers & Shakers Startups Small Business General Best of Benzinga