Benzinga's M&A Chatter for Wednesday June 25, 2014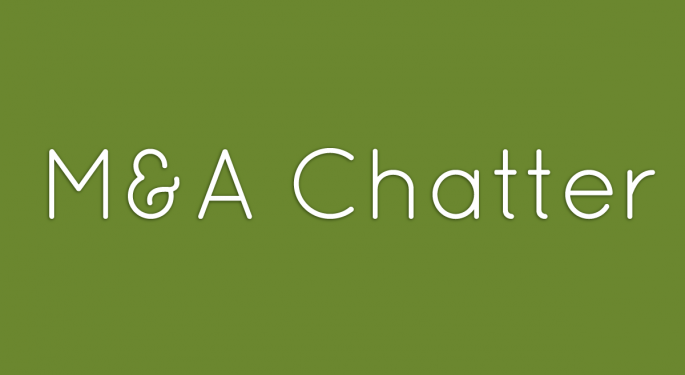 The following are the M&A deals, rumors and chatter circulating on Wall Street for Wednesday June 25, 2014:
Hanesbrands to Acquire DBApparel, Values DBApparel at $500M on Enterprise Basis
The Deal:
Hanesbrands (NYSE: HBI) announced Wednesday that it intends to acquire DBApparel of France from Sun Capital Partners, subject to completion of consultation with European and French works councils representing DBA employees.
Hanesbrands' offer values DBApparel at approximately $550 million on enterprise basis. The deal could close as soon as early as Q3 2014.
Hanesbrands closed Wednesday at $96.72, a gain of more than 9%.
Shire Responds to Abbvie's Proposal of £20.44/Share in Cash, 0.7988 in Shares
The Response:
Shire (NASDAQ: SHPG) notes today's announcement by AbbVie (NYSE: ABBV) reiterating its bid of May 30, 2014, which included £20.44 in cash and 0.7988 AbbVie shares for each Shire share. Shire said today's announcement contains no new proposal or material new information.
Shire said its Board has already considered the proposal and unanimously rejected it, as it undervalued the company and its prospects. Shire advised shareholders not to take action related to the Proposal.
Abbvie's CEO said Wednesday, he plans to meet with Shire shareholders. He made no specific comment regarding a potential hostile bid for Shire.
Shire closed Wednesday at $231.14, a gain of 3.5%, while AbbVie gained 2.5%, to close at $55.00.
HB Fuller to Acquire Tonsan for Cash Consideration of About $230M
The Deal:
H.B. Fuller Company (NYSE: FUL) announced Wednesday that it has signed an agreement to purchase 95% of Tonsan Adhesive, for cash consideration of about $230 million. Tonsan's four founding shareholders will remain with the company and retain a minority equity interest.
H.B. Fuller Company closed Wednesday at $50.25, and traded at $40.39 after-hours.
Rumor of 6M Share Paulson Stake in Support of Valeant Deal
The Rumor:
Shares of Allergan (NYSE: AGN) spiked higher late Wednesday, on a report from Reuters that Paulson & Co had acquired a 6 million share stake, in support of Valeant's (NYSE: VRX) proxy battle to acquire Allergan. Paulson is now one of Allergan's largest shareholders, along with Bill Ackman's Pershing Square, which own's almost a 10% stake.
Valeant CEO Pearson said Tuesday, that major Allergan shareholders supported the $53 billion bid from Valeant, and he would soon have support from the 25% of Valeant shareholders needed to convene for a vote.
Allergan closed Wednesday at $39.45, a gain of more than 2%, while Valeant gained 4.5% to close at $125.94.
NiSource Reportedly in Talks with Dominion Resources
The Rumor:
Shares of NiSource (NYSE: NI) spiked higher Wednesday, on a report from The Deal, that it is in merger talks with Dominion Resurces (NYSE: D), according to sources. NiSource CEO Robert Skaggs reportedly is seeking a 20% premium and an all-cash offer.
NiSource closed Wednesday at $39.45, a gain of more than 2%, while Dominion closed down $0.58 at $69.76.
Volcano Reportedly Sees Takeover Interest from Medtronic, Abbott
The Rumor:
Shares of Volcano (NASDAQ: VOLC) spiked higher Wednesday on a report from Deal Reporter, that Medtronic (NYSE: MDT) and Abbott Labs (NYSE: ABT) have expressed interest, according to sources. Volcano was mentioned as a potential takeover target by the Wall Street Journal on June 18.
Volcano closed Wednesday at $18.19, a gain of $0.15.
Owens & Minor to Acquire Medical Action Industries for $13.80/Share in Cash
The Deal:
Owens & Minor (NYSE: OMI) and producer of custom procedure trays, Medical Action Industries (NASDAQ: MDCI) announced Wednesday, that the two companies have agreed that Owens & Minor will acquire all outstanding shares of Medical Action for $13.80 per share in cash, for a total transaction value of approximately $208 million.
The deal is expected to close in Q4 2014.
Medical Action Industries closed Wednesday at $13.68, a gain of more than 93%, while Owens & Minor gained 1.5% to close at $35.38.
View Comments and Join the Discussion!