Will Prime Air Deliver Big Gains For Amazon?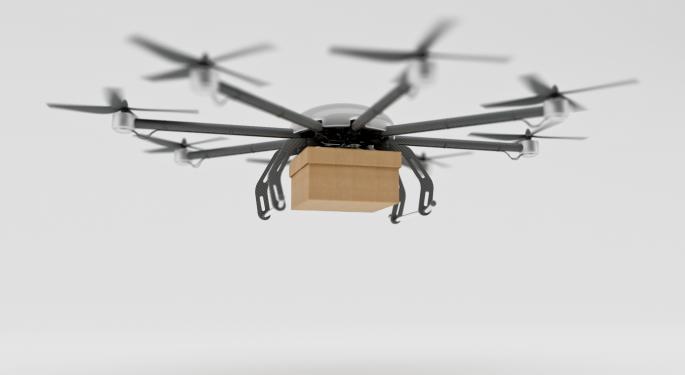 Earlier this week, the Federal Aviation Administration was thought to have quietly quashed Amazon's (NASDAQ: AMZN) initial plans for an unmanned delivery service.
Amazon was not explicitly prohibited from proceeding with the project, but the FAA released a few specific rules that could have grounded Prime Air. For example, a drone (categorized as a "model aircraft") can be used for hobby or recreational use to move a box from point to point without any compensation. But drones cannot be used to deliver packages to anyone for a fee. This detail (which was first spotted by Ars Technica) would have theoretically made it impossible for Amazon to bring Prime Air to the masses.
Amazon quickly responded to these reports, by telling CNET that the rules only apply to hobby aircrafts. An FAA spokesperson told CNET the same thing. This doesn't mean that Prime Air is ready for takeoff, but it could be in the distant future.
More Rules Are Forthcoming
The FAA is still finalizing its rules for the commercial use of aerial drones, and Amazon expects the FAA to announce them in 2015.
"We will be ready at that time," Amazon wrote on its official Prime Air page. The company might be ready, but it could still be a while before Prime Air is implemented.
Related: Amazon's Firefly Could Be A 'Game-Changer'
"There is so much that needs to be cleared from a regulatory perspective, let alone consumer acceptance," Dr. Windsor Holden, Research Director at Juniper Research, told Benzinga. "If you clear those hurdles, then you could see significant traction in the longer term."
Dr. Holden recently authored a report on the growth of digital payments. He estimated digital payments will reach $4.7 trillion in 2019 versus, an estimated $2.5 trillion in 2014. For the time being, however, he doesn't expect Prime Air to capture a significant part of that growth.
Looking ahead to the next 10 or 20 years, it is not hard to imagine a world where affluent individuals order last-minute Christmas presents using Prime Air. Amazon has not said what it will charge for the service, but it will likely cost more than current one-day shipping fees (which start at $2.99 for Prime members). Of course, if Amazon can develop an economical way to charge less than one-day shipping, Prime Air could become a mainstream success.
Related: Amazon Could Lose Money On Fire Phone Sales
There might even be a way for Amazon to offer a monthly Prime Air service. Though it may not provide unlimited deliveries, Amazon could allow consumers to purchase a block of delivery credits at a discounted rate. Unused deliveries could roll over to the next month. This would be another way to inspire consumers to use the service.
The Fight Continues
When Prime Air was first announced, some bloggers argued that it was just a publicity stunt. But unlike publicity stunts such as the Back to the Future-inspired hover board scam, Amazon has not backed away from its futuristic concept.
From day one, the company has insisted that this is a real project. On June 13, Amazon started testing Prime Air in Nevada. The company also hired a major lobbyist to improve its success in working with Congress.
Disclosure: At the time of this writing, Louis Bedigian had no position in the equities mentioned in this report.
Posted-In: air delivery systems Amazon Prime Air Ars Technica CNET Dr. Windsor HoldenNews Tech Interview Best of Benzinga
View Comments and Join the Discussion!