Boeing And Caterpillar's Billion Dollar Reason For Disliking The New House Majority Leader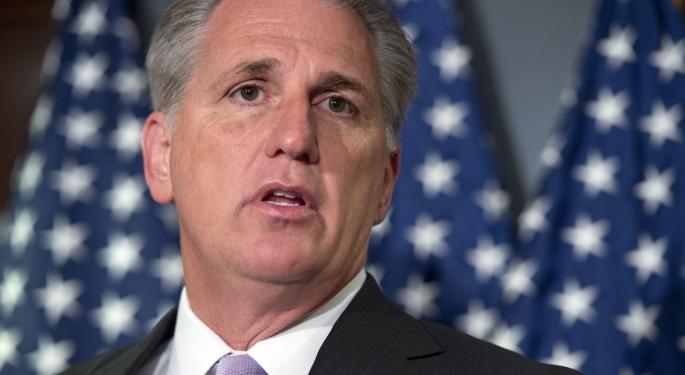 Incoming House Majority Leader, Kevin McCarthy does not support reauthorizing the charter of the Export-Import Bank of the United States. Business leaders, including representatives of Boeing (NYSE: BA) and Caterpillar (NYSE: CAT), are not happy with McCarthy's position.
The reason for the rancor is simple. The U.S. Export-Import Bank, created 80 years ago, supports U.S. exports by guaranteeing loans to foreign buyers and providing credit insurance, according to The Wall Street Journal.
Companies like Boeing and Caterpillar have been huge beneficiaries of the bank's existence due to the volume of exports they produce.
McCarthy said he believed the work of the Ex-Im Bank could be better handled outside of government.
Related Link: Export-Import Bank Announces Over $1 Billion Authorized for U.S. Exports to sub-Saharan Africa in First Seven Months of Fiscal Year 2014
On Fox News Sunday, McCarthy told host Chris Wallace, "One of the problems with government is it's going to take hard earned money so others do things that the private sector can do. That's what Ex-Im Bank does."
Ex-Im Bank's Days Are Numbered
Wallace prodded McCarthy, asking, "So straightforward question, you can say it right here. You would allow the Ex-Im Bank to expire in September?"
McCarthy answered, "Yes, because it's something that the private sector can be able to do."
The Wall Street Journal noted that chances of the bank winning reauthorization without McCarthy's blessing were slim. Incoming House Majority Whip, Steve Scalise has stated his opposition to the bank and Speaker John Boehner said he would not block a decision to unwind the agency.
McCarthy and fellow conservatives who oppose the Ex-Im Bank have said it interferes in the market and creates "crony capitalism" in which the government picks winners and losers. In addition, many conservatives believe the bank puts taxpayer dollars at risk.
Related Link: House Judiciary Committee Marks Up Internet Tax Freedom Bill
Hurting American Companies?
Supporters of the bank have said unwinding it would put U.S. companies at a disadvantage when competing with companies in other countries that have similar government-sponsored financial institutions supporting them.
In fiscal 2013, the U.S. Export-Import Bank authorized $27 billion to back up an estimated $37.4 billion in export sales by U.S. companies.
Meanwhile, The Associated Press reported Monday that the White House along with the U.S. Chamber of Commerce and the National Association of Manufacturers called for renewal of the bank's charter.
White House spokesman Josh Earnest told the AP that the bank "helps American companies create and support jobs here at home at no cost to taxpayers."
The bank returned $1 billion to the Treasury in the last budget year.
At the time of this writing, Jim Probasco had no position in any mentioned securities.
Posted-In: Boeing Caterpillar John Boehner Kevin McCarthyWall Street Journal Politics Media General Best of Benzinga
View Comments and Join the Discussion!