#PreMarket Prep Guest List For The Week of June 23, 2014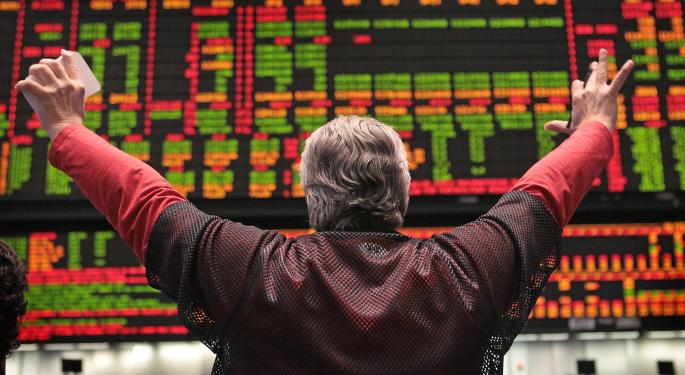 It's an exciting week coming up on Benzinga's #PreMarket Prep broadcast, sponsored by OptionsHouse.
Tune in at 8:00 am EST Monday-Friday here for market analysis and insight.
Monday, June 23, 8:35 a.m.
Lydia Idem Finkley (@faithmight), Forex Trader and Author of FaithMight.com
Lydia Idem Finkley has been investing in equities for 18 years and actively trading currencies for 7 years. With a special feel for sterling, Lydia trades exclusively GBP currency pairs, particularly the GBP/USD and EUR/GBP.
9 a.m.
Lawrence McMillan (@optstrategist), Founder of McMillan Analysis Corp. and OptionStrategist.com
Lawrence G. McMillan has over 35 years of experience trading options and is also well known for his educational option books and option newsletters. His most popular publication, "Options As A Strategic Investment" is one of the best selling option books of all time and is commonly referred to as "the bible of option trading."
9:15 a.m.
Michael Pachter (@michaelpachter), Research Analyst at Wedbush Securities
Michael Pachter is a video game, social media, digital media and electronics analyst.
9:30 a.m.
Anka Metcalf (@AnkaMetcalf), Founder of TradeOutLoud.com
Anka Metcalf has been active in the day trading & investing arena since 2003 . She is an experienced equity, forex and futures day, swing and position trader.
Tuesday, June 24, 8:35 a.m.
Nic Chahine (@racernic), Marketfy Maven and Author of 'Create Income With Options Spreads'
Nic Chahine will join the show every Tuesday to discuss the week's options outlook.
9 a.m.
Barry James, Portfolio Manager with James Investment Research, and President of the James Advantage Funds
Barry James conducts extensive research in both the stock and bond markets. He holds both the Chartered Financial Analyst and the Chartered Investment Counsel designations. He currently oversees the management of James Investment Research and is a senior member of the Investment Committee.
9:20 a.m.
Sang Lucci (@sanglucci), Founder and Head Trader at Sanglucci.com
Anand Sanghvi, aka "Sang Lucci," has successfully traded equities and options since 2006, beginning his career as a proprietary trader at PTG Capital. After serving as head trader, he left in 2009 to trade his own account. He infamously turned $50,000 into over $2,400,000 and soon thereafter founded Sanglucci.com, a website specializing in the education of options traders and tape readers from around the world.
Wednesday, June 25, 8:35 a.m.
Harlan Pyan (@AllAboutTrends), Co-Founder of All About Trends
AAT is a subscription-based newsletter service focused on helping individuals secure consistent profits in the market by trading what they see, not what they think, hear or fear.
9 a.m.
Kate Stalter (@KateStalter), Investment Advisory at Portfolio Wealth Advisors and Columnist for Forbes and Real Money
Kate Stalter has showed people how to trade stocks using technical analysis for years. You can also find her at www.bettermoneydecisions.com, www.RealMoney.com and at www.morningstar.com/advisor
9:15 a.m.
Greg Harmon (@harmongreg), CIO and Partner at Presidium Capital and founder of DragonFly Capital
Greg Harmon has more than 25 years of trading experience at BNP Paribas, State Street and JPMorgan. He is the author of "Trading Options: Using Technical Analysis to Design Winning Trades."
9:30 a.m.
Martha Stokes (@TechniTrader), Co-founder and CEO of TechniTrader
Martha's fascination with the markets and business started at the age of nine. She made her first investment while still a teen. Her theory on Cycle Evolution is a landmark work on financial cycles.
Thursday, June 27, 8:35 a.m.
Fari Hamzei (@HamzeiAnalytics), Founder of Hamzei Analytics
Fari Hamzei joins the show every Thursday, bringing his wealth of knowledge on aggressive equity options and index futures trends.
9 a.m.
Aron Pinson (@MicroFundy), Co-Founder and the Chief Investment Officer at LPS Financial LLC
Aron Pinson is the author of MicroFundy.com. He has more than a decade of professional financial market experience. He is a Chartered Financial Analyst and is a member of the CFA institute.
9:20 a.m.
Brian Meece (@RocketHub), Founder and CEO of RocketHub
RocketHub is one of the world's top crowdfunding platforms. The goal of Rockethub is to add infrastructure and credibility to the existing crowdfunding model and bring it into new arenas such as academics, entrepreneurship and social causes.
Friday, June 27, 8:35 a.m.
Chris Nagy (@christophernagy), Founder & CEO of KOR Group LLC and Dave Lauer (@DLauer), President and Managing Partner of KOR Group LLC
Chris and Dave will both join the show at this time to talk about High Frequency Trading.
9 a.m.
Ryan Detrick (@RyanDetrick), Independent Trader and Market Technician
Ryan Detrick worked at Schaeffer's Investment Research for more than a decade and is a frequent speaker and writer on stock market and economic issues. Detrick is widely sought after by financial media for his expertise and commentary.
9:20 a.m.
Dave Landry (@davelandryTrdr), Founder and CEO of Social Market Analytics
Dave Landry has been actively trading the markets since the early 90s. In 1995 he founded Sentive Trading, LLC, (www.davelandry.com)–a trading and consulting firm. He is author of "Dave Landry on Swing Trading," "Dave Landry's 10 Best Swing Trading Patterns & Strategies" and "The Layman's Guide to Trading Stocks."
View Comments and Join the Discussion!
Posted-In: Anka Metcalf Aron Pinson Barry James Brian Meece Dave LandryMedia Interview General Best of Benzinga