Benzinga's Weekend M&A Chatter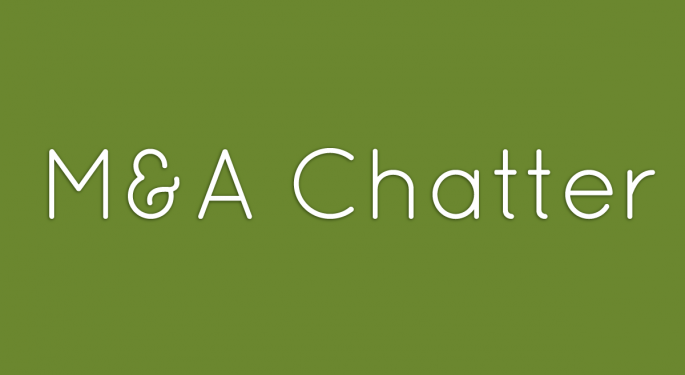 The following are the M&A deals, rumors and chatter circulating on Wall Street for Friday June 20 through Sunday June 22, 2014:
Shire Rejects AbbVie Proposal
The Rejection:
Shire (NASDAQ: SHPG) confimred Friday, that on May 30, 2014, it received an unsolicited, conditional proposal from AbbVie (NYSE: ABBV) for £20.44 in cash and 0.7988 AbbVie shares per Shire share. The proposal was rejected.
Shire's Board believes the proposal undervalued Shire and stated it will more than double its 2013 annual product sales to $10 billion by 2020.
Shire closed Friday at $229.88, a gain of more than 16%.
Oracle Acquires LiveLOOK
The Deal:
Oracle (NYSE: ORCL) announced Friday, it has agreed to acquire provider of real-time, visual collaboration technology for co-browsing and screen sharing, LiveLOOK. Terms were not disclosed.
Oracle closed Friday at $40.82, a loss of 4%.
Google's Nest to Acquire Dropcam for $555M in Cash
The Deal:
Google's (NASDAQ: GOOG) (NASDAQ: GOOGL) Nest Labs announced Friday, it has agreed to acquire video-monitoring company Dropcam, for $555 million in cash. The deal was announced on the Nest blog (https://nest.com/blog/2014/06/20/the-nest-family-is-growing/).
Google closed Friday at $556.52, a gain of $1.53.
Alstom Board Positively Recommends GE Offer
The Board Recommendation::
GE (NYSE: GE) was informed Saturday that Alstom's (NYSE: ALSMY) Board of Directors has unanimously decided to recommend GE's offer to acquire the Power and Grid businesses of Alstom for $16.9 billion (€12.35 billion), consisting of $13.5 billion (€9.9 billion) enterprise value, plus $3.4 billion (€2.5 billion) of net cash.
Under the agreement, GE and Alstom would form three joint ventures: grid, renewables, and global nuclear and french steam. France's Economy Minister said Sunday, France had secured an option to buy a 20% stake in Alstom from Bouygues.
The deal is expected to close in 2015.
Shares of GE closed Friday at $26.97, a gain of $0.04.
Lululemon Founder Considers Options, Including Sale, Buyout
The Founder Options:
Lululemon Athletica (NASDAQ: LULU) founder Dennis Wilson has enlisted the services of Goldman Sachs to consider his options, which include selling his stake in the company or being part of a private-equity firm buyout, according to sources reported by Dow Jones. In response, Lululemon's board has also sought the assistance of advisors, according to someone familiar with the matter.
Goldman Sachs helped Wilson take Lululemon public in 2007.
Lululemon Athletica closed Friday at $40.23, a loss of $0.04.
Posted-In: News Rumors Management M&A Movers
View Comments and Join the Discussion!