How 6 Companies Have Turned To Music For The World Cup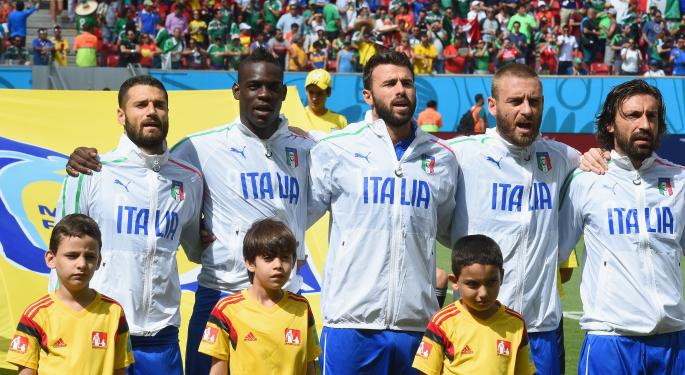 FIFA World Cup advertisers have a problem. Although the World Cup is the single most popular sports event on the planet, it features a game in which there are few opportunities for commercials.
Soccer is played in two 45-minute halves, mostly without a break.
Second, soccer is global. The number of countries and cultures represented make it nearly impossible for brands to create meaningful television spots that speak to all those people.
Related to culture, there's the language barrier. Even where culture is similar, chances are the spoken word is much different.
Related Link: 5 Stocks To Consider During The 2014 World Cup
Solution: World Cup advertisers have turned to the universal language – music – to get their word (and brand identity) across to millions of soccer fans all over the world.
Here are some examples from AdAge:
For Dannon's Activia yogurt, Shakira updated her 2010 World Cup hit, "Waka Waka," with a Brazil-themed video and renamed it "La La La."
Coca-Cola's (NYSE: KO) "The World Is Ours," was created in English and then translated into 32 local versions, each sung by a local artist in that country's native language.
Apple (NASDAQ: AAPL) owned Beats by Dre has a five-minute video, "The Game Before the Game," showing soccer stars and others listening to "Jungle" by Jamie N Commons & The X Ambassadors. There's even a cameo appearance by Apple.
Celebrities, including Kevin Costner, Whoopi Goldberg and Jon Hamm give voice to Disney's (NYSE: DIS) ESPN ad that features "I Believe," by the American Outlaws.
Pepsi's (NYSE: PEP) full-length soundtrack for the World Cup features a cover of David Bowie's "Heroes."
Samsung (OTC: SSNLF) created "Football Will Save the Planet," a video that entreats earthlings to fall in behind soccer stars in a fight against aliens.
The stakes for advertisers are huge. Four years ago, three billion people tuned in to the World Cup, including almost a billion for the final match. For comparison, 111 million people tuned in to this year's Super Bowl.
Allen Adamson, managing director of Landor Associates told The Associated Press, "Sports is a great unifier, and very few sports are as global as the World Cup. Music is the other big platform that transcends cultures and languages, so it's an emotional way to connect with as broad an audience as the World Cup audience is."
Joe Belliotti, Coca-Cola director of global entertainment, said, "The World Cup is universal. Music is universal too.. And if you can find that simple melody and simple lyrical idea that can translate and connect with people around the world, that's the formula we strive for."
At the time of this writing, Jim Probasco had no position in any mentioned securities.
Posted-In: Apple Beats Coca-cola Dannon disneyTopics Events General Best of Benzinga
View Comments and Join the Discussion!