FCC Examining Internet Peering Agreements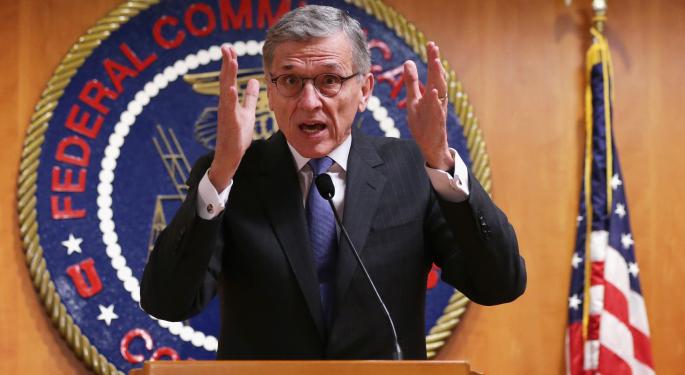 Persistence, it seems, pays off. For Netflix (NASDAQ: NFLX), at least. After drawing attention to its streaming woes by posting on screen messages like, "The Verizon network is crowded right now. Adjusting video for smoother playback…," the company is getting some responses.
Not surprisingly, Netflix received a cease and desist letter from Verizon (NYSE: VZ). But more positively it also received assurances from Federal Communications Commission chairman, Tom Wheeler that the agency would look into the issue of Internet traffic slowdowns between ISPs and content providers.
In a statement released June 13 Wheeler said, "We don't know the answers and we are not suggesting that any company is at fault."
While not promising specific action, aside from collecting information, Wheeler added, "I have experienced these problems myself and know how exasperating it can be."
Related Link: Democratic Legislation Would Force FCC To Ban Internet Fast Lanes
Wheeler also noted that the agency was examining peering contracts. The FCC has received copies of agreements between Comcast (NASDAQ: CMCSA) and Netflix and Verizon and Netflix and was in the process of requesting copies of other peering arrangements, including agreements signed by Google (NASDAQ: GOOG) (NASDAQ: GOOGL) owned YouTube.
Netflix said it was happy with the FCC's action so far. According to Ars Technica the company stated, "We welcome the FCC's efforts to bring more transparency in this area. Americans deserve to get the speed and quality of Internet access they pay for."
Interestingly, Latin Post reported, despite "paying for" direct access to Verizon's network beginning at the end of April, Netflix streaming speeds actually declined in May. The Netflix peering deal with Comcast garnered better results with streaming quality improving after that contract was signed.
Related Link: 7 Technology Partners Enhancing Levi's Stadium
At the heart of all this the question that remained was "Who pays?"
AT&T (NYSE: T) senior executive vice president for external and legislative affairs, Jim Cicconi said, "Netflix has been paying (for traffic delivery) since inception. It wants free, I get it, but someone has to pay for it."
It's important to note that despite the fact the FCC was looking into peering agreements, those agreements were not part of the net neutrality debate currently taking place. At least not directly.
It's also important to realize that no matter what arrangements are made between content providers and ISPs, ultimately the consumer foots the bill. Which has made the FCC's attempts to achieve transparency all the more important.
The FCC has not said whether it planned to make public the contents of peering agreements it received.
At the time of this writing, Jim Probasco had no position in any mentioned securities.
Posted-In: AT&T Comcast Federal Communications Commission GooglePolitics Topics Tech General Best of Benzinga
View Comments and Join the Discussion!