Benzinga's M&A Chatter for Tuesday June 17, 2014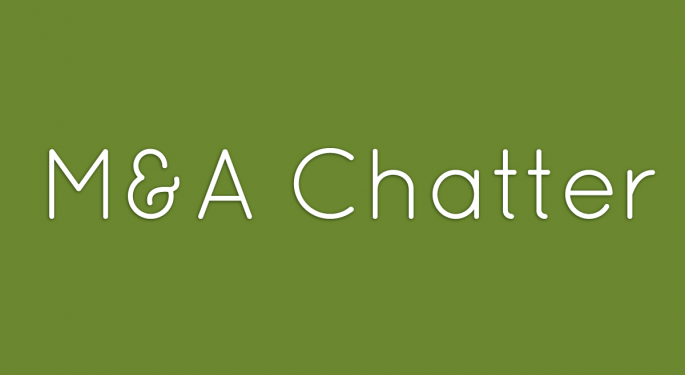 The following are the M&A deals, rumors and chatter circulating on Wall Street for Tuesday June 17, 2014:
Trulia to Bid for Move
The Rumor:
Shares of Move (NASDAQ: MOVE) rose sharply Tuesday, as a person familiar with the matter, told Benzinga that Trulia (NYSE: TRLA) could be offering around $18.00 per share for the operator of Realtor.com.
Spokespersons from the companies declined to comment on the rumor.
Shares of Move rose as high as $15.46 Tuesday and closed at $14.98, a gain of almost 8%, while Trulia closed at $45.04, after reaching a high of $46.98.
SolarCity to Acquire Silevo
The Deal:
SolarCity (NASDAQ: SCTY) announced Tuesday, it has signed an agreement to acquire solar technology and manufacturing company, Silevo. SolarCity will pay $200 million in shares for Silevo, plus and additional $150 million based on milestones.
Shares of Solar city rallied throughout the day and closed at $64.83, a gain of 17.5%
Oracle Reportedly Near Deal to Acquire Micros for $5B
The Rumor:
Shares of Micros Systems (NASDAQ: MCRS) spiked sharply higher Tuesday, as Bloomberg reported that Oracle (NYSE: ORCL) is in talks to acquire the provider of enterprise-wide applications, services and hardware for the hospitality and retail industries, according to a source. Micros shares were halted on a circuit-breaker at 11:50 AM ET and then continued to a high of $70.24
A spokesperson for Oracle declined comment on the report, while Micros did not immediately respond.
Shares of Micros Systems closed Tuesday at $66.33, a gain of 15%
Coca Cola Shares Rise Premarket on Going Private Talk
The Investor Comments:
Shares of Coca Cola (NYSE: KO) rose in the premarket Tuesday, on comments by activist investor David Winters, speaking to Maria Bartiromo on Fox Business Network. Winters said he believed that Warren Buffett's Berkshire Hathaway (NYSE: BRK.B), which owns just over 9% of Coke shares, could be working on a plan to take the soft drink company private.
Buffett responded to the comments, telling CNBC there is "absolutely no chance of that."
Coca Cola closed Tuesday at $40.92, a gain of $0.26.
HARMAN Acquires Yurbuds
The Deal:
Harman International Industries (NYSE: HAR) announced Tuesday, it has acquired headphone manufacturer Yurbuds. Terms of the transaction were not disclosed.
Harman International Industries closed Tuesday at $103.46, a gain of $0.22.
View Comments and Join the Discussion!