Merger Monday Highlights From The Morning's Announcements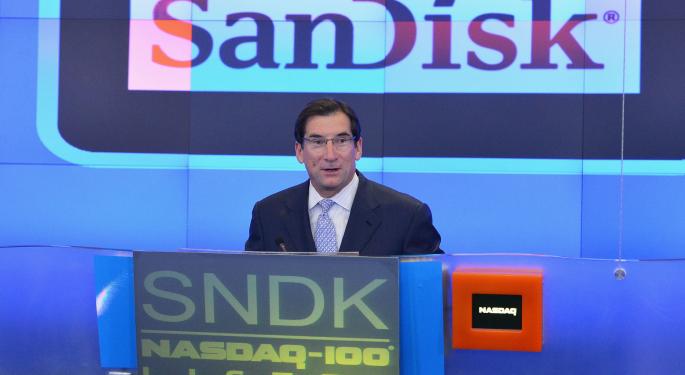 Some big mergers were announced Monday morning and have been the driving force behind these shares as a result.
Medtronic Agreed to Buy Covidien
Medtronic (NYSE: MDT) agreed on Sunday to buy Covidien (NYSE: COV) for $42.9 billion.
This deal would combine the world's two biggest medical device makers and help lower some of Medtronic taxes by gaining access to cash held overseas.
The deal would move Medtronic from its headquarters in Minneapolis, Minnesota, to Covidien's corporate home in Ireland, where the tax rate is significantly lower.
Related: IPO Lookout: 14 IPOs For The Week Of June 16
Medtronic shares are down 0.89 percent to $59.79, while Covidien shares are up 20.65 percent to $86.88.
SanDisk to Buy Fusion-IO
SanDisk (NASDAQ: SNDK) announced it would Buy Fusion-IO (NYSE: FIO) for $1.1 billion.
SanDisk will offer $11.25/share in cash for all of Fusion-IO's outstanding stock. SanDisk would finance the acquisition with cash available on its balance sheet.
Fusion-IO was founded in 2005 and went public in 2011. The firm makes flash memory hardware and software used in data centers. Fusion-io's chief scientist is Steve Wozniak.
Fusion-IO shares are up 22.84 percent to $11.40, while SanDisk shares are trading up 3.18 percent to $101.60.
Level 3 to Acquire TW Telecom
Level 3 Communications (NYSE: LVLT) said it would acquire TW Telecom (NASDAQ: TWTC) for a stock-and-cash transaction value of $40.86/share on market close as of June 13, 2014.
Under the terms and subject of the condition of the agreement, TW Telecom stockholders will receive $10 cash and 0.7 shares of Level 3 common stock for each share of TW Telecom common stock that is owned at closing.
The combination leverages the highly complementary strengths of the two companies to create a stronger, more nimble, customer service-oriented competitor to meet customers' increasingly complex local, national and global communications needs.
TW Telecom shares are up 7.26 percent to $38.98, while Level 3 Communications stock is down 5.6 percent to $41.62.
Williams Acquires Access Midstream Partners L.P.
Williams Companies (NYSE: WMB) has agreed to acquire the 50 percent general partner interest, along with 55.1 million limited partner units, in Access Midstream Partners (NYSE: ACMP) from Global Infrastructure Partners for $6 billion in cash.
Williams already owns the other 50 percent of the general partner and 23 percent of the limited partner interest in Access Midstream Partners, which it purchased in 2012.
The acquisition is expected to close in the third quarter of this year.
Williams shares are trading up 18.76 percent to $56.03, while Access Midstream Partners shares are trading up 0.55 percent to $65.73.
View Comments and Join the Discussion!
Posted-In: Covidien PLC Fusion-io Inc. Level 3 Communications Inc. Medtronic Inc. Mergers and Acquisitions SanDisk CorporationM&A News Best of Benzinga